Black female scientist using $324K grant to research rape investigation methods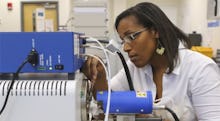 Dr. Candice Bridge, the first black woman to teach chemistry at the University of Central Florida, has been given a substantial grant — and she plans to use it to research ways to improve investigative methods in sexual assault cases, the Atlanta Black Star reported. 
The National Institute of Justice gave Bridge $324,000 to pursue alternatives to DNA testing using resources to which only the FBI and a handful of forensic labs have access, according to a press release announcing the award on Nov. 30. 
"This grant will enable us to conduct research into a unique new means of identifying perpetrators of sexual assault when traditional DNA evidence doesn't exist," Bridge said in the release. "It's an important line of research that has become even more important as rapists attempt to elude capture by covering their DNA tracks after an assault."
Bridge and her 11-person team will look at the lubricants exchanged during a sexual assault. In addition to the NIJ grant, Bridge has been given a monetary award by her university, which she'll use to examine how the body can break down fluids after an assault, before forensics experts can test it. She's also working with the Orlando Public Defender's Office to create an educational website for attorneys, helping them to understand what forensics can realistically do. 
Bridge boasts a shiny resume: When she was 25, she became one of the first people in the U.S. to receive a doctorate in forensics and joined Howard University's chemistry department as a professor, the first woman to do so. Before teaching at UCF, she worked for the U.S. Army's Defense Forensic Science Center. 
Women are underrepresented in science-related careers, but black women have a particularly hard time: In 2002, eight black women were awarded Ph.D.s in computer sciences, according to the National Science Foundation. Ten years later, that number had risen — to 16. STEM fields — science, technology, engineering and mathematics — have shaken neither their gender nor their racial bias, a 2014 report from the Center for WorkLife Law finding that 48% of black women and 47% of Latina women in those industries had "been mistaken for administrative or custodial staff." 
It's particularly refreshing to see a woman of color enjoying so much success in STEM, especially in light of the hulking flaws in our criminal justice system when it comes to sexual violence. As we head into an administration that does not appear to be particularly concerned with sexual assault as a crime, there already exist tens of thousands of backlogged, untested rape kits nationwide, so new insights into improving sexual violence investigations seem more necessary than ever.