Things got even more bizarre after Lakeith Stanfield crashed the Critics' Choice stage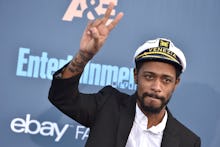 It's hard to believe that it's been seven years since Kanye West famously ran up on the VMA stage after Taylor Swift won best female video for "You Belong With Me." Fortunately, for those of us who crave the drama, a similarly bizarre (but hilarious) incident occurred at the Critics' Choice Awards on Sunday when Atlanta actor Lakeith Stanfield decided to accept the award for best comedy series after Silicon Valley was announced the winner. 
What happened at the Critics' Choice Awards? 
At the ceremony, which awarded the best in film and TV from 2016, Christian Slater and Leslie Mann took the stage to present the award for best comedy series. Veep, Black-ish, Modern Family, Silicon Valley, Atlanta, Fleabag and Unbreakable Kimmy Schmidt made up the nominees, but Silicon Valley ultimately took home the award. 
Silicon Valley's executive producer Tom Lassally was walking up to the accept the award on behalf of the HBO series when Stanfield, dressed up in a sailor's outfit, went up instead. Unlike Kanye, Stanfield played it completely straight. He didn't boast about Atlanta, but instead gave his sincerest gratitude for a show he doesn't even appear on.
"I want to thank everybody for honoring us this way. We worked very hard on Silicon Valley," Stanfield said in his speech. He then left the stage, and also left Tom Lassally very confused. Before giving his own speech, Lassally commented that he had "no idea who that was."
Later that evening, Stanfield took to Twitter to sort of expand upon his speech. 
Who is Lakeith Stanfield?
In its debut season, Atlanta — created and also starring Donald Glover — follows Earn (Glover), a Princeton dropout who is eager to make his life better for his daughter. In order to do this, he decides to reconnect with his cousin, Atlanta rapped Paper Boi, who is quickly gaining attention in the rap scene. 
Stanfield — who has had several impressive supporting roles throughout the last couple of years in Short Term 12, Selma, Dope and Straight Outta Compton — plays Darius, Paper Boi's assistant and the unassuming brains behind his growing presence. Earlier this year, he spoke to Complex about how he managed to get a role in Atlanta.
"I was at one of those Hollywood parties, which are generally kind of sucky," Stanfield said. "So I spent most of my time just getting extremely drunk... I'm dancing, and I stumble into this guy, and it's Childish Gambino! I'm like, 'What's up man? You're fucking dope.' And he's like, 'I had you in mind for this TV show.' I was ecstatic."
While Atlanta didn't go home with the award for best comedy series, Donald Glover did take the award for best actor. In his speech he thanked FX for allowing the show to be made and gave a shoutout to his cast mates, including Stanfield.
The 22nd Critics' Choice Awards aired on A&E on Dec. 11. It was hosted by Silicon Valley's T.J. Miller.