16 reasons 2016 was music's greatest year in recent memory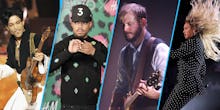 Without music, we may not have made it through 2016.
At times it seemed like the only safe space after watching tragedy after tragedy unfold, including one of the worst mass shootings in our history, a resurgence in protest surrounding police violence and an election of nightmares. These events came paired with one of the most fruitful and important years of music in recent memory — a fact that might be coincidence or providence, depending on your worldview.
Of course, the music world was not without its share of tragedy. David Bowie, Maurice White, Prince, Phife Dawg, Bernie Worrell, George Martin, Leonard Cohen and Sharon Jones all died, likely with more music in them to give. They're luminaries who will have their names honored in some of music's most hallowed halls, but hopefully they can rest easy knowing that music today is in capable hands. 2016 revealed numerous talents fit to carry their torches.
These are the releases and musical moments that made 2016 one of the most unforgettable years for music in decades.
David Bowie said goodbye with Blackstar.
Bowie lived his life playing characters — Starman, Thin White Duke, Ziggy Stardust — and he exited with one more, as a wizened, sage-like Lazarus portrayed on Blackstar. His final album, released on his 69th birthday two days before his death, was filled with allusions to his coming end. "Look up here, I'm in heaven," Bowie sang on "Lazarus." "I've got scars that can't be seen." He treated his death the same way he treated his life — as a piece of art.
Anderson .Paak assumed the throne that Dr. Dre reserved for him.
Most listeners came to know Anderson .Paak as that light, gravely, soulful croon on Dr. Dre's Compton. He helped pen six of the tracks from that album and contributed additional vocals to several more. .Paak took the attention that swarmed him and redirected it into January's Malibu, one of the most unexpectedly excellent albums of the year, a glimpse of real soul in a year when so much music only masqueraded as it. The release earned him a Grammy nomination for best new artist and best urban contemporary album. 
Rihanna finally got weird on Anti. 
When you let Ri be Ri and be an executive producer on her own album, the psychedelic trap and blues of Anti is what you get. Engagingly genre agnostic, dripping with sinister femme fatale sexuality, an influence drawn into even sharper relief by its videos, the album is completely different from anything Rihanna has ever offered in the past. 
It didn't make the same immediate impact as some of her past singles or more radio-friendly offerings, but it has serious replay value — maybe even more than some of the albums chosen over it for the Grammy's album of the year.
Beyoncé slayed the Super Bowl in full Black Panther regalia.
Super Bowl 50 wasn't quite ready for the jelly that Beyoncé planned for their halftime show. Even though she was technically "only" a supporting act, she dominated the conversation with her salute to the history of the Black Lives Matter movement. Beyoncé's dancer's black berets made a clear nod to the Black Panther movement, and their X formation seemed an additional hat-tip to civil rights leader Malcolm X. 
The fallout was massive. The next day conservative pundits went haywire condemning Beyoncé for being anti-police and racist, which only helped further confirm how important this performance was in the Beyoncé's ongoing journey from pop star to political force.
Kanye West debuted The Life of Pablo at a stadium-sized hip-hop listening party.
When West wants to make a statement, he makes sure it's so undeniably bold that people who would normally never seek out his work can't help but look away. That mentality is what drove the choices behind his T.L.O.P listening party, which he held at a venue no less prestigious than New York City's Madison Square Garden. 
His music immediately spawned headlines about his Taylor Swift "Famous" lines and the black power fists that his models held up as the album came to a close. Little about the album fits hip-hop's standard definitions of beauty and excellence, but still in there's something captivating in its unique, "repulsive" beauty, as Car Seat Headrest's Will Toledo described it in a recent review.
Beyoncé took lemons and made Lemonade.
No one really knew what to expect when Beyoncé asked the world to tune into HBO on April 23 where she premiered her Lemonade visual album. Fans were immersed in a story of betrayal, revenge and liberation, told through a torrent of stunning visuals referencing America's overlooked historical ills and mythological figures. The only album that came close to matching the depth and scale of Beyoncé's vision is another album that she actually contributed to — Frank Ocean's Blonde.
Kendrick Lamar dropped a brilliant slew of untitled unmastered tracks, stronger than most rap full-lengths.
It started with a LeBron James Instagram video. Following Lamar's stunning Grammy performance of yet another of his untitled To Pimp a Butterfly leftovers, the King reached out to Lamar and Top Dawg Entertainment founder Top Dawg, tweeting: "You have to release those untitled tracks asap! What's up? Talk to me." Untitled Unmastered dropped two weeks later, eight tracks of some of Lamar's most unsettled and hallucinogenic work to date. Even in one of his off years, Lamar's seemingly inexhaustible genius cannot help but bubble into hip-hop's mainstream.
The music world united around Prince. 
There was a time in which Prince was music's purple Peter Pan, the funk star who seemed to never age. But even the most invincible creatives in the world have to face their morality at some point. Prince's death in April brought out some beautiful tributes across the industry, both musical and otherwise. It brought Ocean out of hiding and back into the Tumblrverse. It gave Bilal a chance to re-familiarize the world with his incredible soul through his Prince tribute at the BET Awards. 
Judging by the fervor of response, it's clear Prince will experience a different kind of immortality — as an unseen influencer and necessary muse for generations of musicians to come.
Chance the Rapper changed the game with a Coloring Book.
If anyone hadn't heard Chance the Rapper before, they faced his talent in 2016. The Chicago underdog dropped his liberated third mixtape Coloring Book in May, and proceeded to spread his mug across the music media world. He organized charity drives in Chicago, performed on Ellen, led a petition to change the Grammys rules to consider free releases as legitimate artistic offerings — and won at each. He has a good shot to win the Grammy for best new artist, a move that will an add an entire new legitimacy to the independent, DIY career he's only just beginning to build.
Drake rewrote hip-hop's record books with Views.
Drake didn't look to reinvent the wheel on his fourth studio full-length Views, but it did rewrite hip-hop's record books. It broke streaming and chart records throughout the year. The album helped Drake become the first artist to have 20 songs simultaneously chart on the Billboard Hot 100, and the first artist to hold the No. 1 seat on the Billboard Hot 100, the Billboard 200 and the Billboard Artist 100 for eight straight weeks. On the streaming side, "One Dance" became Spotify's most streamed song ever in October and Apple Music's first album to hit 1 billion streams in September.
Frank Ocean released two inspired albums in one week: Endless and Blonde
After using emotions as his personal playthings for about four years, Ocean finally dropped his third and fourth studio albums, Endless and Blonde, respectively, in August. The first came paired with a build-your-own spiral staircase visual album still only accessible through Apple Music. Additionally, Blonde had little of the radio-courting falsetto charm of his beloved Channel Orange, but it contains an even deeper, fascinating poetry. It's genreless, queer and impossible to define with simplistic labels. It will doubtlessly go down as one of the mystifying and inspired releases of the decade.
Bon Iver returned with an album inspired by hip-hop sampling and numerology.
"This may sound like a lie — it probably is — but it's not supposed to mean anything," Justin Vernon said of the strange symbols and numerological titles that made up his third studio album 22, A Million, released in September. Clocking at just over a half-hour, it's his strangest release by far — a mixture of bit-crushed samples, legions of saxophones and only the occasional acoustic guitar chord. It opened up a new chapter in Bon Iver's career and shattered the indie folk stereotypes he was partially responsible for establishing with his game-changing debut For Emma, Forever Ago. 
Solange took A Seat at the Table.
Beyoncé is no longer the only Knowles fit to parlay with R&B's top icons. In September, Solange dropped her intimate, understated A Seat at the Table. It spoke to self-care and black girl magic in a similar way to Beyoncé's Lemonade. But where Beyoncé leaned into explosive visuals and laid out salacious tabloid bait, Solange took a road less traveled in R&B these days: one that's meditative and imminently serene. It came just as the presidential election was reaching its fever pitch and offered the perfect antidote to the constant violence that followed that race.
Kid Cudi went public with his mental health issues and helped others get comfortable talking about their own.
Kid Cudi's depressive, emotional artistry has long pinned him as hip-hop's emo rapper, but in October, that characterization got too real. Cudder revealed he's been "living a lie" and has been battling "depression" and "suicidal urges" in a confessional Facebook post. It was a rare moment of vulnerability for a rap icon to allow his fans a glimpse at his personal struggles. 
Yet his decision to take responsibility for his mental health and check himself into rehab started a productive conversation about celebrity mental health and prompted others to come forward to discuss their own issues.
De La Soul and A Tribe Called Quest reasserted the power of Native Tongues.
Two of the greatest names in Golden Age hip-hop, De La Soul and A Tribe Called Quest, two of the bands in the once dominant Native Tongues posse, both came out of long hiatuses to drop albums this year. De La dropped their crowdfunded and the Anonymous Nobody..., followed by A Tribe Called Quest's We Got It from Here... Thank You 4 Your Service, the group's final release following the death one of their founding members, Phife Dawg. Both contained levels of old-level wisdom that helped remind listeners just how broad-minded and instructive hip-hop can be.
Childish Gambino became a soul icon.
Donald Glover's Childish Gambino project has long been relegated to a sideshow in hip-hop. He styled himself a parody of rap stardom rather than an emcee aiming to be the genre's next lyrical threat. On Awake, My Love! the artist pulled a deft 180, turning away from the punchline-heavy hip-hop of his past to dive headlong into '70s gospel and funk. 
Its songs, discussing the responsibilities of fatherhood and the inherent terror and violence that often follows black lives, listened like a deft emotional reframing of the year's political tumult, and the sign of a very new era in the artist's musical life. Childish Gambino is a child no more.