Critics' Choice Awards: What do the winners mean for the 2017 Oscars?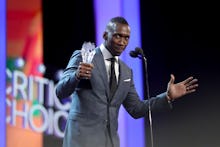 During awards season, you can't go so much as one day without the entire game getting changed. Sunday night, the Broadcast Film Critics Association handed out their Critics' Choice Awards, solidifying the first batch of potential Oscar winners. But it wasn't even 12 hours until the wild and wacky Golden Globe nominations came along to change the game.
Still, there are some tea leaves to be read in the Critics' Choice winners lineup. Here are the major signs we can take from the Sunday evening awards as we head into the heat of Oscar season.
La La Land is the best picture frontrunner — but don't count Moonlight out
It's a fool's game to bet against La La Land at this point. It won the Critics' Choice best picture award, led the Golden Globe nominations — it's almost certainly going to win the best picture Oscar. Never forget how much the Oscars like movies about movies — think The Artist or Argo, for instance.
That said, there's almost as much argument to be made for Moonlight. It scored just one fewer nomination than La La Land at the Golden Globes (in a category that it wasn't eligible for, best original song). It won some key Critics' Choice awards, including best acting ensemble. It might win the Screen Actors Guild's best ensemble prize, which is the closest corollary to the Oscars' best picture. Moonlight winning would also mark the beginning of a turnaround from the past two years of #OscarsSoWhite — though there'd still be far more work to be done.
If Moonlight walks into Oscar night with an SAG award and the drama Golden Globe under its arm, while La La Land has the Critics' Choice and the comedy or musical Golden Globe, it'll be a tight race. Again: La La Land is probably taking it. But this isn't the runaway race it seems.
All four acting winners have a strong chance of repeating
The four acting winners make for a good group: Casey Affleck for Manchester by the Sea, Natalie Portman for Jackie, Mahershala Ali for Moonlight and Viola Davis for Fences. They also all have a strong shot at repeating on Oscar night.
Ali is all but locked up — he's been winning a slew of critics' awards, and he's an easy pick for the best part of the beloved Moonlight. Affleck's probably in, too; while it initially seemed like Denzel Washington would put up a fight for Fences, all the movie's awards attention seems focused on Davis. She is a likely best supporting actress winner, though Michelle Williams has been winning far more critical plaudits for Manchester by the Sea. That race could still go either way.
The biggest question-mark, however, is best actress. Portman is a strong contender for so totally committing to becoming former first lady Jackie Kennedy in Jackie, but Emma Stone is a beloved star and previous Oscar nominee (but not winner) in a best picture frontrunner. It's going to be star power versus actorly technique; considering Portman has won before (for Black Swan, another technical masterpiece of a performance), Stone's superstar wattage may be too irresistible for the Oscars. 
Zootopia may be a stronger Moana rival than previously expected
Zootopia beating Moana at the Critics' Choice Awards is a good sign that the best animated feature race at the Oscars is close — and things may have just swung in Zootopia's favor. If it can also win at the Golden Globes (which won't be easy), it should keep up the momentum all the way to the Academy Awards stage. 
One other note: Kudos to Disney Animation Studios for having two incredibly strong contenders and refusing to sabotage one in favor of promoting the other during this awards season. It would probably be easier to just put their eggs in one basket, but this is a far more compelling race.
Could "Audition (The Fools Who Dream)" really win best original song?
Listen: "City of Stars" is a charming little song. It's fun to hear Ryan Gosling talk-sing his way through a tune about how magical Los Angeles is. Sure, give it a best original song nomination, Golden Globes, be our guest. But giving it that nomination over "Audition (The Fools Who Dream)" from the same movie is an absurd choice.
Lyricists Benj Pasek and Justin Paul are very talented at writing thematic songs — music that gets at the feeling of a scene more than the specifics of what's happening. That's why "Audition" is such a pleasant surprise: It still feels thematic, but it's inextricably tied to the moment in the movie. Stone's Mia is asked to tell a story, and the song feels authentically like something she could be making up in the moment. It's incredibly compelling, and Stone sells it like mad. It's a magical sequence.