Donald Trump could be getting his Trump TV — as a state-run channel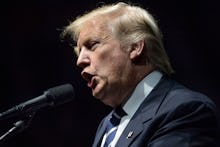 Remember when Donald Trump, in apparent preparation for a loss of the presidential election, seemed to be gearing up for the launch of his very own television channel? Well. As Politico reported, President-elect Trump will gain access to a state-run media channel thanks to the annual National Defense Authorization Act, which Congress passed Thursday. 
According to Politico, this year's NDAA dissolves the Broadcasting Board of Governors, an independent government agency that encompasses the Voice of America, Radio Free Europe, Office of Cuba Broadcasting, Radio Free Asia and Middle East Broadcasting Networks. Rather than being run by a bipartisan board, these news services will be run by a CEO of Trump's choosing.
Of particular importance here is the VOA, which broadcasts the news in more than 40 languages and originated in 1942 as an antidote to Nazi propaganda. The VOA broadcast only internationally until 2013, when President Barack Obama signed legislation making its content available to audiences within the United States.
Per the VOA Charter, signed by President Jimmy Carter in 1976, "VOA news will be accurate, objective and comprehensive" and "will represent America, not any single segment of American society." Now, consider the specter of Trump TV, a precursor to which may or may not have run on the president-elect's Facebook page in the weeks leading up to Nov. 8.
While not officially deemed a preview of the channel Trump was hinting he'd launch after the election, it certainly looked like one. As Politico reported, a three-hour Facebook Live video that ran before, during and after the third presidential debate presented a collection of pro-Trump pundits, surrogates and members of his family, all gathered to combat the purportedly biased media that was swinging the race in Hillary Clinton's favor. The broadcast looked, on its face, like a network news program, but its content was decidedly skewed: asserting that Clinton used funds from her foundation to whiten her teeth, hammering on the fact that Trump never supported the Iraq war (he did) and presenting Trump's presidency as our certain future, which it did not appear to be at the time. 
On Oct. 24, Trump's Facebook page announced the introduction of nightly Facebook Live news reports, to be broadcast from Trump Tower until the election. The inaugural episode looked much the same as debate night's coverage, presenting a blindly pro-Trump election narrative that, at the time, did not mirror the polls. 
There's no way of knowing for sure what Trump TV would have looked like. But based on the president-elect's foray into Facebook news, and based on the news he himself propagates through his Twitter feed, it's not hard to guess. Since the election, Trump has surrounded himself with a number of media types including his chief strategist, Steve Bannon, formerly the CEO of alt-right site Breitbart, and Jared Kushner, his son-in-law, owner of the Observer and a Trump TV proponent. 
Trump, a veteran of reality television who recently declined to give up his "big stake" in The Apprentice, might not know that he'll have the VOA at his disposal, according to Politico. But, as one unnamed Republican official told the outlet, "This will pop up on Steve Bannon's radar quickly. They are going to put a friendly person in that job [as CEO]."
That means that the U.S. could soon have its very own state-run propaganda channel, an especially frightening prospect in light of the hard-to-check proliferation of fake news so often skewed in Trump's favor.