What will happen in 'The Big Bang Theory' midseason finale? Sneak peek of episode 11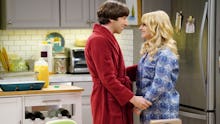 In the midseason finale of The Big Bang Theory, it looks like the show won't be taking fans inside the delivery room for the birth of Bernadette and Howard's child. 
Thursday's fall finale will finally welcome Bernadette and Howard's baby, but showrunner Steven Molaro tells TV Line that it won't follow the typical pattern of a sitcom birth. Molaro feels it's an area that has been covered on countless sitcoms over the years — like Friends and Will & Grace — and that this episode will actually focus on before and after the birth. 
Molaro also reveals that the show built in a time jump during the initial episodes of this season. 
"She knew she was pregnant on Valentine's Day last year. And she's giving birth on Amy's birthday, which is December," Molaro spilled. "I don't know how much longer we could've gotten away with it if anyone was paying attention."
Meanwhile, it's Amy's birthday and also the anniversary of her and Sheldon's first time having sex. Molaro teases that it looks like Sheldon could be in store of another round with Amy, even if he's moving as slowly as Sheldon does.
"He still struggles with physical intimacy, but he doesn't dislike it. And he loves Amy," Molaro revealed. 
After the fall finale, The Big Bang Theory is on a break until Jan. 5. The midseason finale airs Thursday, Dec. 15 at 8 p.m. Eastern on CBS.