How to watch 'America's Next Top Model' season 23 online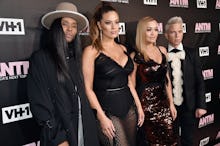 America's Next Top Model is back with season 23. In the kickoff episode, "Business, Brand, Boss," new host Rita Ora will be greeting a flurry of aspiring models before assigning them their first challenge. So how can you watch the latest installment of America's longest-running fashion reality TV show online?
Watch it online
The season premiere airs Monday, Dec. 12 on VH1 at 10 p.m. Eastern and is available for online streaming, but it's not free. You can watch live by logging in with your cable provider on the VH1 app. This way, you can watch ANTM on your iPhone, iPad, Google Play or your computer. Previous ANTM episodes are available for streaming on Hulu.
This season of America's Next Top Model will feature Tyra Banks' successor, Ora. You may recognize the singer, actress, designer and entrepreneur from BBC's The Voice and ITV's The X Factor. Ora will be joined by experts Ashley Graham, Drew Elliott and Law Roach. The group will be judging 14 contestants, who range from a part-time gymnastics coach to a current theater student.