Rami Malek really is Hollywood's best dressed man. Let's talk about it.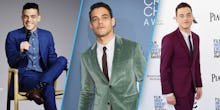 Last night at the Critics' Choice Awards, a night that was overflowing with dull, predictible black and white tuxedos, Rami Malek broke the mold. 
To an event that had relatively subdued fashion (most women wore black dresses), Rami Malek showed up in a green velvet blazer designed by Burberry, a light blue shirt, a brown tie, black pants and brown shoes. 
It's what James Bond would look like if he was far more sartorially fearless, or what Cary Grant would have looked like if he loosened up every once in a while. 
And this wasn't even the first time this weekend Malek had stepped out in a statement blazer. On Saturday night, he popped up at a GQ party in a Dior Homme white blazer covered in black squiggles. 
In reality, this green velvet jacket isn't even really surprising for Malek, who just received yet another Golden Globe nomination on Monday for his star turn in Mr. Robot. But when it's compared to suits worn by other leading men in Hollywood — the Brad Pitts and the George Clooneys — it's a clear and shining example of Malek's fearlessness when it comes to style, and not caring about fitting into the status quo. 
At this point, Malek showing up in a velvet jacket or one covered in squiggles is expected, and because of that, it's time to surrender to the idea that Rami Malek is Hollywood's best dressed man. He is consistently one-upping internet boyfriends like Ryan Gosling, Idris Elba and even Oscar Isaac, while rebutting the classic black and white tuxedo in favor of color, sheen, print and pattern. 
"I always try to walk in, showing off my personal style," Malek said in an interview with the Hollywood Reporter. 
To the Emmys back in September, he wore a white Dior Homme suit with a black bowtie. A white suit!
And in that white suit, he won. 
"We love to push the boundaries without being weird," Malek's stylist, Ilaria Urbinati once told the Hollywood Reporter. 
And yet, in a sea of black and white tuxedos, Malek does always seem a bit weird or risky, largely because of how unimaginative most men in Hollywood are. 
In a time when fashion is trying to be genderless, and expressing an interest in fashion is trending toward genderless as well, it's important that Malek is standing as yet another example for men who are interested in creating a style all their own. Malek joins men like Jaden Smith, who's now regularly rocking a skirt, and Kanye West, who's designing collections. 
To a gala that was honoring Mr. Robot in June, he wore a beige suit with a tropical print shirt underneath. 
To the 2016 Peabody Awards, he wore a maroon suit. 
To the 2016 Met Gala, he wore a blue suit by Dior with a matching blue tie. 
To the 2016 Independent Spirit Awards, he wore a pink suit by Calvin Klein with a navy tie, which played well with his eyes that are basically two sapphires. 
Even before his leading role in Mr. Robot, Malek was clearly unafraid of sticking out, rocking a grey suit with a yellow shirt on a red carpet back in 2013 and a button-down with a bit of flair in 2014 at his premiere for the movie Need for Speed. 
And it's not even just award shows and red carpet events where Malek outshines just about every other man. To interviews and receptions, Malek has shown up in head-to-toe matching colors and patterns, as well as tropical prints that somehow, through magic maybe, don't make him look like a dad on vacation. 
While many of these outfits would look off-putting and, when worn on the wrong man, would look like they're trying too hard to be edgy and cool, Malek remarkably pulls them all off, from pink suits to Hawaiian print shirts. 
Malek never disappoints and that's why, definitively, he is currently Hollywood's most exciting and best dressed man.