'Pokémon Go' announcement time: When will the Dec. 12 update with new Pokémon arrive?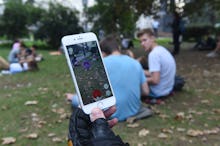 On Dec. 7, the Pokémon Company announced that a major update would bring new creatures to Pokémon Go on Dec. 12. We still don't know exactly when the official update will hit, but based on the game's history we have a few guesses.
Pokémon Go update time: Predicting when the new Pokémon could arrive
Niantic, the developer behind Pokémon Go, is expected to break the news sometime Monday. Instead of just waiting around, we can look back at the company's previous announcements to get a better sense of when this one might drop.
Heavy notes that Niantic doesn't seem to stick to one specific time for revealing big updates. However, it does appear to have a few preferred windows. In the past, those announcements have come at roughly 9 a.m. Eastern, between 1 p.m. and 3 p.m. Eastern, or at about 7 p.m. Eastern. So it's possible we could be waiting for most of the day before anything official is revealed.
Pokémon Go update: What to expect
We already know Pokémon Go is adding new Pokémon, but it's unclear exactly what that means. The consensus online is that Niantic is set to release its rumored Gen 2 update, bringing Pokémon from the Gold and Silver games into the mix. However, it's possible this update could focus on Gen 1 legendaries like Articuno, Zapdos, Moltres, Mew and Mewtwo instead.
Gen 2 Pokémon were recently spotted in the game's code, but that doesn't necessarily mean Niantic is ready to release them. Then again, we won't know anything for sure until the official announcement later today. Stay tuned!
More Pokémon Go hacks, tips and tricks
While you're waiting for Niantic's big announcement you may also want to check out Mic's Pokémon Go guides. Here's the new top 10 attackers list and the new top 20 rankings following the balance update, guides on post-update Chansey and Rhydon, everything you need to know about finding the long-awaited Pokémon Ditto, creating new PokéStops, how to maximize your chances of catching Pokémon and fresh information about how PokéStops distribute Pokémon eggs.