Golden Globes 2017 nominations: The biggest snubs and surprises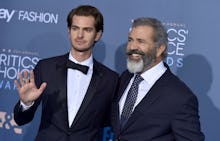 After winning several Critics' Choice Awards on Sunday night, including best comedy film, it wasn't a huge surprise that La La Land picked up seven nominations when the 2017 Golden Globe nominees were announced early Monday morning. TV-wise, HBO newcomer Westworld and HBO favorite Game of Thrones racked up a few expected nods, Veep continued to be acknowledged and after doing well at the Emmys in September, The People v. O.J.: American Crime Story garnered some love. 
Still, despite some routine nominees, the Hollywood Foreign Press Association shocked in some of their choices, not only in who they decided to nominate, but also who they decided to ignore.
Below are some of the biggest snubs and surprises of this awards season. 
Motion picture, musical or comedy
Perhaps the two biggest "wows" in the comedy category — 20th Century Women, Deadpool, Florence Foster Jenkins, La La Land and Sing Street were the films nominated — are Deadpool and Sing Street.
It's a rare feat for a superhero movie to get such acclaim (The Dark Knight, one of the most acclaimed of the genre wasn't even nominated back in 2009), but perhaps being the highest grossing rated-R film ever, helps. Ryan Reynolds, who leads the film, also snagged an acting nomination for playing Wade Wilson, a man who, in an attempt to find a cure for his cancer, ends up not only severely scarring his face but acquiring superpowers. 
Sing Street, on the other hand, hasn't been talked about much this season. Directed by John Carney, best known for Once, the musical comedy premiered at Sundance in 2016 and looks to be the strangest inclusion, especially when other comedies like Hail, Caesar! and Love and Friendship were seen as more likely contenders. The film joins La La Land as the other nominated musical.
Actor in a motion picture, drama 
The HFPA's choices for best actor in a dramatic film are pretty standard, with one really surprising exclusion: Tom Hanks. 
Casey Affleck, even after being accused of sexual harassment, was likely to be nominated. For his role in Manchester by the Sea, the younger Affleck brother has been rewarded for his performance by the Critics' Choice Awards, the National Board of Review and the New York Film Critics Circle. 
Denzel Washington and Andrew Garfield (Garfield is nominated for Hacksaw Ridge but has also been mentioned for his performance in Martin Scorsese's Silence) were also more obvious choices, along with Joel Edgerton in Loving and Viggo Mortensen in Captain Fantastic. 
Of the two, Edgerton was more likely to get in for his role alongside co-star Ruth Negga (who was also nominated) in Jeff Nichols' moving Loving, but there are critics who enjoyed Captain Fantastic. Still, what's most fascinating is the one actor who didn't make the cut, the one actor that was most likely to take Edgerton's or Mortensen's place. Despite raves for his performance, Hanks did not receive a Golden Globe nomination for Clint Eastwood's Sully. Actually, Sully wasn't recognized at all by the HFPA.
Director of a motion picture
Of this year's contenders for best film director, three were a lock. Since awards season began, Kenneth Lonergan, Damien Chazelle and Barry Jenkins have been bringing in accolades for their movies Manchester by the Sea, La La Land and Moonlight, respectively. Lonergan's Manchester by the Sea won best film from the National Board of Review, Chazelle won best director at the Critics' Choice Awards, and Jenkins was named best director by New York Film Critics Circle. The two left are Tom Ford and Mel Gibson.
Ford not only got a best director nomination, but Nocturnal Animals was also nominated for its screenplay and supporting performance from Aaron Taylor-Johnson. Gibson, whose film Hacksaw Ridge received seven nominations at the Critics Choice Awards, was nominated for best director, despite the scandals that have plagued his career for the last decade. 
Actress in a limited series or TV movie
Sometimes, unexpected isn't necessarily a bad thing. Riley Keough, a scene stealer in the film American Honey (also cheated from Golden Globes), was nominated for her work in The Girlfriend Experience. In Starz's icy limited series, Keough gives a stunningly restrained performance as an ambitious law student who is an escort on the side. Keough hasn't been nominated for her work before this cycle. 
Noticeably absent is Lili Taylor, whose powerhouse performance in American Crime had her nominated for an Emmy in September. 
While Felicity Huffman, Sarah Paulson and Kerry Washington — the other nominees — have all been nominated for their work on American Crime, The People v. O.J.: American Crime Story (Paulson won an Emmy and the Critics' Choice Award for her performance as Marcia Clark) and Confirmation, respectively, Charlotte Rampling is another unexpected face in this year's nominees.
Rampling is nominated for London Spy, a British thriller about a gay man who looks into the mysterious murder of his boyfriend. Rampling plays the boyfriend's mom, a woman who knows more than she lets on. Rampling was nominated for an Oscar last year for 45 Years and may be riding off the acclaim from that performance because this is the first time she's been acknowledged for a major award for London Spy. 
Mic has ongoing Golden Globes coverage. Please follow our main Golden Globes hub.