Arkansas to keep same-sex parents off birth certificates — what's next for LGBT families?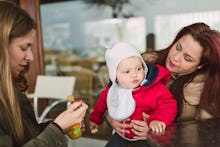 On Thursday, the Arkansas Supreme Court handed down a ruling that deals a striking blow to equality for LGBTQ families: Birth certificates in the state must have the names of a child's biological parents, the court ruled, upholding a previously established protocol. This means that if the child is born to a same-sex couple, the non-biological parent may be blocked from appearing on their own child's birth certificate.
"It does not violate equal protection to acknowledge basic biological truths," Associate Judge Jo Hart said in Thursday's majority decision, Reuters reported. "In the situation involving the female spouse of a biological mother, the female spouse does not have the same biological nexus to the child that the biological mother or the biological father has."
But, according to attorney Bonnie Robertson, who practices family law in Little Rock and works with many same-sex couples, Thursday's ruling is mired in hypocrisy.
"In a heterosexual marriage, when a baby is born, if you, as the man, are married to the woman when the baby is born, even if you aren't the biological father, you can be on the birth certificate," Robertson said in a phone call on Monday. 
"That's where this ruling by our Supreme Court is full of it. They're saying, 'Oh, we have to honor the biology' ... that is not in tune to what really happens in the hospital."
And there's no rule in Arkansas that people who give birth even have to name a second parent. Robertson said she frequently sees birth certificates that, for whatever reason, only have the mother's name. "We have [that] all the time," Robertson said. "That's why I call BS on this decision."
Leslie Cooper, a senior staff attorney with the American Civil Liberties Union's LGBT and AIDS Project, said Thursday's ruling is in "direct conflict" with the Supreme Court's Obergefell v. Hodges decision that made same-sex marriage the law of the land in 2015. "The court says that states provide a number of benefits to married couples, and the court said when these benefits are provided to married different sex couples they have to be provided to same sex couples," Cooper said. 
"It seems to me this is in direct conflict with Obergefell, because men get to be on the birth certificate regardless of biological parentage," Cooper added — which means that, in the case of a married same-sex couple, a woman whose wife has just given birth should get the same right, even if she's not that child's biological parent.
Cooper said Thursday's decision is "about birth certificates," not about the right to legal parentage. Non-biological parents in a same-sex couple can still legally adopt their children, after which a new, updated birth certificate is issued. But that doesn't mean that Thursday's ruling won't have real-life impacts on same-sex couples — far from it.
"[This decision] is more than just a symbolic example of unequal treatment, parents need to use birth certificates when they take care of their children," Cooper said, noting that such an obstacle can create problems for families. And in those couples for whom the cost of a second-parent adoption proves prohibitive, leaving one parent off the birth certificate could be devastating.
According to Cathryn Oakley, senior legislative counsel with the Human Rights Campaign, Thursday's ruling will only serve to promote "continued and exacerbated confusion." 
"This thing that should be fairly clear-cut is only getting more confusing," Oakley said Monday. In a statement released by the HRC on Thursday, following the ruling, Oakley slammed the decision as "a clear violation of equal protection for married, same-sex couples, as affirmed by the U.S. Supreme Court in Obergefell."
So what's next for same-sex couples in Arkansas? It's possible, Oakley said, that this case will go to the U.S. Supreme Court. But, even if it does not, Robertson, Oakley and Cooper all underscored how important for same-sex couples to speak to a lawyer when they become parents, in order to best protect their rights.
Second-parent adoption is, for now, a important option to ensure that both members of a same-sex couple, regardless of their biological parentage, can ensure parental rights. But, as Robertson pointed out, "it's a hurdle that heterosexual couples don't have."