Will Smith Death: What happened the night Cardell Hayes killed New Orleans Saints star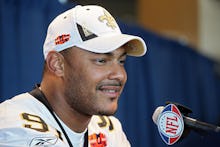 Cardell Hayes, the man who claimed he shot and killed former New Orleans Saints star defensive end Will Smith in self-defense, was found guilty of manslaughter Sunday, the Times-Picayune reports. 
After the jury's 10-2 verdict, Hayes, 29, faces up to 40 years in prison for killing the 34-year-old Pro Bowler who helped lead the Saints to their first and only Super Bowl title in 2010.
Hayes will be sentenced on Feb. 17.
The night Smith was killed
On the night of April 9, Smith was driving in New Orleans with his wife, Raquel, and two other people, according to the Times-Picayune, when his car was rear-ended by a car driven by Hayes. 
Smith, who was intoxicated, and Hayes "exchanged words" at the scene, New Orleans Police Department Spokesman Juan Barnes told the Times-Picayune at the time. Hayes shot Smith several times, killing him. Hayes also shot Smith's wife twice in the leg, according to reports.
Hayes claimed that Smith shot at him first and that the killing was in self-defense.
But at the trial, witnesses disputed Hayes' account and a firearms expert testified that ballistic evidence recovered at the scene indicates only Hayes had fired his gun. 
A crash reconstruction expert testified that the fender-bender that sparked the altercation was potentially intentional. The jury unanimously found Hayes not guilty of criminal damage to property in the accident. Hayes, himself a former New Orleans high school football star, was also found not guilty on a charge of second-degree murder.
Smith was drafted by the Saints in the first round of the 2004 NFL Draft. In nine seasons with the team, he amassed 457 tackles, 67.5 sacks and two interceptions. He was selected to the Pro Bowl in 2006. He was briefly signed to the New England Patriots in the summer of 2014, but was released before the season started.
He is survived by his wife and three children.
Former coaches and teammates reacted to the killing in April, calling his death "devastating" and "senseless."
"Heavy hearts w the senseless passing of our Team Capt. Will Smith," Saints coach Sean Payton wrote on Twitter. "Pray for his wife's recovery and their children."
At the trial, Assistant District Attorney Jason Napoli told the New Orleans jury that a guilty verdict would "fight back against the violence in this city," the Times-Picayune reported.
"We had a minor traffic accident, if anything, and a man is dead with seven bullets in his back," Napoli said. "Until we get it right in that (jury) room, we'll continue to get it wrong out there."