Nintendo holiday deals 2016: 3DS consoles, gaming accesories, starter packs and more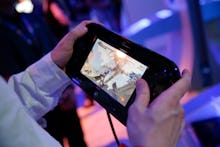 Now is a great time to be a Nintendo fan. Although most retailers have quietly scaled back on the type of jaw-dropping savings found on Black Friday, there are still tons of deals being offered up online if shoppers know where to look. 
Gamers can find discounts on a variety of hot consoles, like the limited-time-only 3DS and an impressive lineup of newly released titles, while supplies last. 
Here's a rundown of the best Nintendo savings available and where you can find them: 
Editor's note: Prices and product availability are subject to change throughout the holidays.
Nintendo 3DS XL: $174.99 ($25 off)
Right now you can score the 3DS XL console for only $174.99 from GameStop or Best Buy. The upgraded system comes with tons of improved features, like amiibo support, head-tracking technology that adjusts images based your on your viewing angle and a bigger screen so players can see every move and video command clearly.
If you're looking to upgrade your video game collection set your sights on Best Buy's BOGO promotion. Shoppers who purchase one Wii U or Nintendo 3DS game can nab a second one of equal or lesser value at 40% off.  The company's gaming library includes newly released titles like Mario Party Star Rush (Nintendo 3DS), Minecraft (Wii U Edition) and The Legend of Zelda: Ocarina of Time (Nintendo 3DS).
Video games: 3DS titles ($10 off)
For one-off deals there's no better deal then what's being offered by Target.The discount store is offering up $10 off its roster of best-selling games, which include Super Smash Bros, Kirby: Planet Robobot and Mario Kart 7. Shoppers can also find pop-up discounts on select accessories and bundles, although availability and price may change throughout the holidays. 
Not content to just slash prices on popular 3DS games, Target is also deeply discounting its Wii U offerings. Lego Dimensions and Skylander Imaginators starter packs will retail for $29.99 and $39.99, respectively, while individual games are as low as $38.99.
New Nintendo 3DS: $204 (total savings not available)
It's not too late to get your hands on the new Nintendo 3DS Super Mario. Leading up to Black Friday and Cyber Monday the limited-edition handheld game was reduced to $99, but these days you still take home the device for a more reasonable $204 via Amazon.  
This month, Mic Essentials brings you handpicked deals, reviews, recommendations and gift ideas. For more ideas, see our lists for best fitness smartwatches, Amazon deals of the day, weed tech and vapes. If you buy something through a link on this page, Mic may earn a small commission.