'Sherlock' season 4 premiere synopsis released online ahead of January air date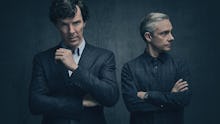 Sherlock fans, rejoice! The season four premiere synopsis for the Conan Doyle-inspired BBC series has been released. Adventure awaits at 221b Baker Street and will be yours to witness on New Year's Day 2017.
What's going down
According to BBC's premiere synopsis, the first episode of series four — "The Six Thatchers" — focuses on one question: Why is someone ruining images of former Prime Minister Margaret Thatcher? It may seem like a trivial matter to Scotland Yard, but Sherlock wonders about the deeper, darker meaning behind the seemingly small destructive acts.
The cast of characters
"The Six Thatchers" features Benedict Cumberbatch as Sherlock Holmes, Martin Freeman as Dr. John Watson, Una Stubbs as Mrs. Hudson and Rupert Graves as Inspector Lestrade, among others. The episode was written by Mark Gatiss, directed by Rachel Talalay and produced by Sue Vertue. 
When and where to watch it
American fans don't have to wait for the episode to make its way across the pond. Viewers can watch the season four premiere of Sherlock with their British counterparts at 9 p.m. Eastern on Jan. 1 on PBS. It will appear as part of the Masterpiece series. Episode two will air at 9 p.m. Easter non Jan. 8, followed by episode three at 7 p.m. Eastern on Jan. 15.