Syria rebels near defeat in Aleppo: "They either have to surrender or die"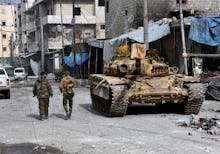 The Syrian military announced it has gained control of 98% of eastern Aleppo, the Associated Press reported early Monday. Bassam Haj Mustafa, a senior member of the rebel Nour el-Din el-Zinki group, said fighters are doing "their best to defend what is left," and added, "The collapse is terrifying."
According to a Reuters journalist in Aleppo, government forces bombed the rebel-held area of the Sheikh Saeed district nonstop overnight, forcing rebel fighters to flee. Lt. Gen. Zaid al-Saleh told reporters that the rebels "don't have much time. They either have to surrender or die."
Despite the fact that the Islamic State group took back the ancient Syrian city of Palmyra over the weekend, regaining control of Aleppo will be a major victory for President Bashar Assad's Russian-backed civil war against rebels, which began in 2011. According to Al Jazeera, rebels withdrew from six east Aleppo neighborhoods on Monday.
"The concern rebels have now is that we are seeing some kind of a domino effect. More neighborhoods may be following as days go by," Al Jazeera's Imtiaz Tyab reported.
The Syrian civil war between Assad's government, backed by Russia, and rebels fighting to overthrow Assad's control, started in 2011 and has since left half a million dead and more than 11 million people displaced.