December Supermoon: Date, time and how to watch this month's full moon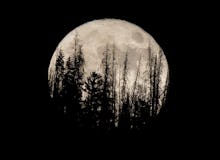 Sky gazers have a treat in store this week, as the final supermoon of 2016 is set to light up the night. After supermoons in October and November, 2016 will close out with one last supermoon event on Dec. 13 and 14. And while it won't be quite as spectacular as November's supermoon, which was the closest full moon to Earth since 1948, this upcoming celestial event will still be a sight to behold.
A supermoon, NASA explains, occurs when the moon is full during the point on its rotation when it's closest to the earth (known as perigee). The moon, which travels on an elliptical orbit, is 14% closer to the earth at perigee than at apogee, the furthest point on the moon's rotation from Earth. This decreased distance allows the moon to shine 30% brighter, NASA reports, making a supermoon a particularly brilliant sight to take in.
Date and time
December's supermoon will take place the evening of Dec. 13 into Dec. 14., with the moon reaching its peak fullness at 7:05 p.m. Eastern time. If you don't catch the moon right on time, however, don't fret — casual observers will find the moon looks just as full on Dec. 12 and Dec. 14 as well.
While the moon will get its chance to shine on Dec. 13, it will be at the expense of another astronomical event, as the Geminid meteor shower will take place on the same night. NASA notes that the supermoon's light will be so radiant that it will likely reduced the visibility of the meteor shower by five or 10 times.
And those who miss out on December's supermoon completely will have to wait a while for the next one: Timeanddate.com notes that the first supermoon of 2017 won't arrive until May 25.
How to watch
Seeing the supermoon is, of course, as easy as just looking upwards at the night sky. Of course, some spots are better than others: To improve your view, find a place with a smaller amount of light pollution using this Light Pollution Map.
There's more than light pollution that will affect how spectacular the supermoon appears, however. NASA notes that one full moon looks pretty much the same as any other when they're up in the sky with no other sights to give it a sense of scale. To truly appreciate the more massive scale of the supermoon, the moon should be viewed when it's lower hanging in the sky and contrasted against foreground objects like trees or buildings — creating what NASA terms a "moon illusion." Having these reference objects as part of your supermoon view will also make for the best photos of the event, NASA photographer Bill Ingalls explains in an article on the NASA website.
Those who'd rather view the event without having to step outside, however, are also in luck. The Virtual Telescope Project will air a livestream of the supermoon on its website beginning at 11:00 a.m. Eastern time (4:00 p.m. GMT) on Dec. 13, which you can watch here.