Here's why 'Stranger Things' star Millie Bobby Brown was a Golden Globes snub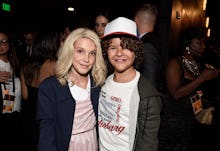 There's likely to be a plethora of think pieces on snubs from the Golden Globes, whose nominations were announced Monday. Some — like Jackie missing out on the best picture race — are certainly justified. However, disgruntled pop culture enthusiasts should give pause before criticizing the award show's exclusion of Stranger Things actress Millie Bobby Brown from the actress in a TV drama category. 
The category, with nominees in Outlander's Caitriona Balfe, The Crown's Claire Foy, The American's Keri Russell, Westworld's Evan Rachel Wood and Brown's Stranger Things co-star Winona Ryder, doesn't exactly have a dearth of talent. But there are other factors that would explain Brown's snub, despite some disapproval (she seems to be taking it well on Twitter, though!). 
The Golden Globes like to reward stars. Ryder is a big one. 
If you look at the history of the Golden Globes' nominations, and subsequent wins, you'll notice that they tend to reward stars (see: Matt LeBlanc winning best actor in a comedy for Episodes, not a good show, in 2012). To that end, the hype surrounding Netflix's Stranger Things isn't just for the quality of the show, but also the unexpected resurgence of Ryder, its biggest star in her first TV series. 
The awards show is in a precarious position, in the sense that it's one of the first to reward new shows and movies, before the Emmys and the Oscars, respectively. Stranger Things will certainly get some Emmy love next year, but if there's one actor from the show who will get the spotlight, it's Ryder. 
For what it's worth, Ryder's performance in the show is fantastic. It could've easily become strained — a grief-stricken single mother who's lost her son, resorting to Christmas lights to communicate with him — but Ryder steadies the character in a way that doesn't irritate the viewer. That alone is commendable, considering it's just a few degrees away from a Shelley Duvall in The Shining. In other words, not a good performance. 
It's hard to pick one child actor from a talented ensemble. 
Brown's role as Eleven is great, and it probably has the most range because she's generally odd and consumes Eggos on the reg. However, highlighting her performance underscores the similarly strong work from the other child actors on the show.
They — Finn Wolfhard, Caleb McLaughlin, Gaten Matarazzo and to a lesser extent because he was snatched by a monster, Noah Schnapp — share much of the screen together, and it's a testament to the show as a whole that none of the actors diminish the quality of the series. If the Golden Globes had an ensemble category, akin to the Critics Choice Awards for movies, then Stranger Things' cast would definitely be in the discussion. But singling out Brown among her talented, young co-stars would be a tad unfair to the rest. 
Though when it comes to rapping, Brown definitely has them beat. 
Seriously, this category is stacked.  
Nobody in the best actress category is unworthy of praise, and it already includes a huge snub: Emmy winner Tatiana Maslany for Orphan Black. It's especially surprising, not only because she won the Emmy, but the show requires her to play several clones with contrasting personalities. 
With only five spots — and one going to her deserving co-star in Ryder — Brown's exclusion isn't all that surprising. Besides, the award, in theory, belongs to Westworld's Evan Rachel Wood, who turned in arguably the best performance in television this year. This isn't a slight to Brown; far from it. She's the breakout star of 2016, Stranger Things is coming back with season two and there's sure to be plenty of awards show nominations in her future. 
I don't mean to be a mouth breather, Eleven, but this isn't your year. Please don't crush my face with your mind.