'Rogue One' reviews: First reactions to the new 'Star Wars' movie are in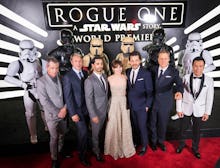 Hollywood insiders got to see the very first Star Wars spin off movie Saturday evening at its world premiere in Los Angeles. The film, officially titled Rogue One: A Star Wars Story, takes place just before the events of Star Wars Episode IV: A New Hope and follows Jyn Erso (Felicity Jones) and a group of rebels tasked with stealing the plans to the Death Star. As both a prequel and first Star Wars standalone movie, the anticipation was high. 
For months Rogue One has been dogged by reports of production troubles. As Mic reported in May, Disney executives were not happy with the initial cut of the film, which led to extensive and expensive months-long reshoots. According to the Hollywood Reporter, Disney brought in Bourne series writer Tony Gilroy to help rewrite some of the movie and oversee reshoots. 
Which raises two big questions: Are the film's previous weaknesses still there? And did the reshoots fix things?
Going by the reactions from critics and others who attended the premiere, the answers are no and yes. According to /Film and Collider, early reactions are mostly positive. Those lucky enough to see the movie took to Twitter to broadcast their impressions.
Many film critics and journalists loved it:
While at least one critic was a little more mixed:
Actors and filmmakers in the audience also piled on the praise:
But beware fans. Steve Weintraub from Collider issued a warning about reading full reviews:
Official reviews of Rogue One are embargoed until Tuesday, Dec. 13 — and even if they're bad, they probably won't have that much impact on the bottom line. This is still a Star Wars movie, after all. According to Deadline, it could open to as much as $350 million worldwide. Take that, Neo-Nazis. 
Rogue One: A Star Wars Story opens Friday, Dec. 16 in theaters nationwide. 
Mic has ongoing coverage of Rogue One. Please follow our main Rogue One hub.