Golden Globes 2017: Date, start time, nominees and early predictions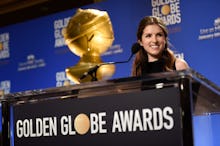 The Critics' Choice Awards were held Dec. 11 and the Golden Globe nominations were announced Dec. 12, which means Hollywood's awards season is in full swing. Both movies and television shows are gathering accolades — and with the latest batch of nominations, fans are making predictions and placing bets for who will take home the trophies. 
When are the Golden Globes?
Film and TV fanatics can make their guesses until Jan. 8, 2017, when the 74th annual Golden Globe Awards are presented at The Beverly Hilton in Beverly Hills, California. The ceremony will air on NBC at 8 p.m. Eastern.
Who is hosting?
The Golden Globes will be hosted by The Tonight Show host Jimmy Fallon, marking his first time as emcee for this particular awards show. The former Saturday Night Live star's previous hosting gigs include the 2010 Primetime Emmy Awards and the MTV Movie and Video Music awards in 2001 and 2002, respectively. 
The 2010 Primetime Emmy Awards broadcast, which Fallon opened with a musical performance featuring the cast of Glee, averaged 13.5 million viewers. Though viewership was up from previous years, ratings for the 2010 show were slightly lower than the 2009 telecast.
Nominees for the Golden Globes, which celebrate the best in television and film, were announced Dec. 12 by former nominees Don Cheadle, Laura Dern and Anna Kendrick, along with Hollywood Foreign Press Association President Lorenzo Soria and Dick Clark Productions' Barry Adelman. 
New nominees and awards-show favorites
Already generating strong Oscar buzz, La La Land received seven nominations and is expected to dominate a few categories at the Golden Globes, including best picture, musical or comedy. Many predict the award for best actress in a musical or comedy will go to Stone, who is nominated alongside eight-time winner Meryl Streep, honored for her performance in Florence Foster Jenkins. While Stone has been recognized for her singing chops in La La Land, Streep's depiction of the titular Jenkins depended on her not singing well. The actress will also receive the Cecil B. DeMille award at the Globes, an honor awarded for "outstanding contributions to the world of entertainment."
Stone's co-star in La La Land, Ryan Gosling, is also a predicted favorite for his acting category, but he may be upset by another Ryan — that being Ryan Reynolds, who surprised many with his nomination for the superhero film Deadpool. 
In the drama category, Natalie Portman's starring role as Jackie Kennedy in Jackie is considered a strong contender for best actress. The statuette for best drama will most likely go to Manchester By the Sea, whose star Casey Affleck is also expected to take home best actor in a drama. 
A strong season for TV
On the small screen, best comedy or musical television show could go to 2016's victor Mozart in the Jungle or awards-show darlings Veep and Transparent. This Is Us, Stranger Things, The Crown, Game of Thrones and Westworld are all contenders to win the drama category. 
Best actor in a TV drama could easily go to Rami Malek for Mr. Robot, a performance for which he has already received an Emmy award. Best actress is considered more difficult to predict, as the category includes Evan Rachel Wood in Westworld, Claire Foy in The Crown and Winona Ryder in Stranger Things. 
On the comedy side, many predict Transparent star Jeffrey Tambor will take home the trophy — unless it goes to Mozart in the Jungle's Gael García Bernal for the second year in a row. Veep's Julia Louis-Dreyfus is expected to finally win a Golden Globe for her role as Selina Meyer, considering this is the fourth time she's been nominated.