Why is Tyra Banks not on 'America's Next Top Model' 2016?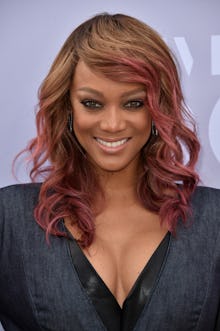 Singer, actress, and entrepreneur Rita Ora will be replacing Tyra Banks on season 23 of America's Next Top Model, which premieres on VH1 Monday at 10 p.m. Eastern. That begs the question: After more than a decade leading the the search for America's next top model, what happened?
While Banks will continue to serve as the show's executive producer, it appears that she was ready to move on after the program migrated from the CW to VH1.
"I thought we were done with the brand," Banks told USA Today in July. "But the fact that the brand still has viability, and that VH1 really truly sees a strong future with it, how could I say no to that?"
Of course, Banks said she still plans to make "a couple of appearances" on ANTM.
No replacement for Banks
VH1 and Logo president Chris McCarthy said he wasn't seeking to replace Banks. Instead, he told USA Today that he wanted to "really infuse the panel with style, fashion and pop culture experts."
"Together they collectively have the power of what is driving fashion and pop culture today," he added.
Ora's panel of judges will include supermodel Ashley Graham, stylist Law Roach and Paper magazine's chief creative officer Drew Elliott.
Re-branding ANTM
The new incarnation of ANTM will concentrate not just on grooming and training contestants as models but also on preparing them for entrepreneurship. 
"It's no longer just about having the highest cheekbones and best pout and the best hair," Banks told USA Today. "My goal is to really get into these girls' heads that I'm not looking for some successful model and I'm not looking for some social media star. I'm looking for both. I'm looking for a hybrid because that's where the world is."
That's why Banks will concentrate on shaping the show from behind the scenes instead of leading the competitors on-screen from week to week.
"My role is really focused on making one hell of a show for VH1, along with our kick-ass team and my partner, Ken Mok," Banks told Variety.
Ora chimed in with her goal for the season. 
"What I hope the girls learn is how to be a 25-year-old boss — like me," Ora told Variety. "I know how to sell, I know how to create a brand and I know how to have multiple business ventures. I'm here representing a 360 overall."