'Crash Bandicoot' PS4 Release Date: Remastered graphics compared to PS1 in new video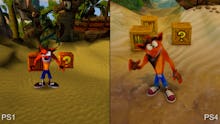 Nostalgia tends to make us think old video games looked a lot better than they actually did. Case in point: Crash Bandicoot. With the news that a remastered version of the original trilogy is coming to PS4 sometime in 2017, Digital Foundry compared the original game to the remastered Crash Bandicoot N. Sane Trilogy side-by-side. 
Not only does it show how gorgeous the new version is, but it'll also be a rude awakening for those of you who thought the original looked pretty good back in 1996.
Crash Bandicoot PS4: Remastered graphics and gameplay comparison video
The video makes it pretty clear that the remastered version of Crash Bandicoot for PS4 is a vast improvement over the original. In addition to simply comparing them visually, Digital Foundry also found that the levels of the N. Sane Trilogy they tested ran smoothly at 30 frames per second, a generally accepted benchmark for solid performance on a gaming console.
Crash Bandicoot PS4: Release date and price
Crash Bandicoot N. Sane Trilogy will retail for $39.99, but PlayStation has yet to announce a release date. So far, the year-long span of 2017 is as specific it'll get. For more information on the N. Sane Trilogy, check out the original reveal trailer and some additional screenshots of what's being added to the remastered version.
More video game news, updates, tips and tricks
Check out Mic's latest video game news, including information about the forthcoming Overwatch holiday event, details on the latest Pokémon Go update, information on The Last of Us Part 2 and details on the characters starring in Uncharted 4: The Lost Legacy.