Popcorn Time Virus: How a new ransomware came about and what to do if it happens to you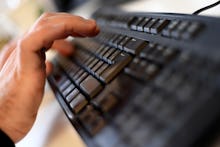 There's a new malware that forces you to inspect your inner maliciousness: To get rid of it, hackers give you the option to pay up, or infect your friends. Or rather, your "friends."
The ransomware — Popcorn Time (not the BitTorrent client) — encrypts a number of file extensions, including documents, pictures, music and desktop files, tech support site Bleeping Computer reported.
To unlock the files, a user has seven days to pay a bitcoin ransom, ZDNet reported, or, more evilly, send the malware to two other people using a referral link. If the two new victims are duped into paying up, then the user gets the decryption key to unlock their files for free.
That is disgusting — and illegal — and what the attackers call the "nasty way" to access to your files, according to security researchers from MalwareHunterTeam who posted screenshots of the ransomware.
According to Bleeping Computer, the source code for the malware indicates that incorrectly guessing the code four times could end up deleting your files, meaning trying to guess the decryption code could cost you. 
According to malware screenshots, the attackers allege they "are a group of computer science students from Syria," adding that each member of the hacking team has lost a "dear member from his family."
"Be perfectly sure that all the money that we get goes to food, medicine, shelter to our people," according to the screenshot. "We are extremely sorry that we are forcing you to pay but that's the only way that we can keep living."
As to what you should do if you are infected with Popcorn Time, law enforcement advises against paying the bitcoin ransom since it fosters illegal activities, the Guardian reported. If you don't want to risk sacrificing important files, please don't send it to your friends or you won't have friends for much longer.