Meteor shower tonight, December 2016: Time, best viewing spots and how to watch the shower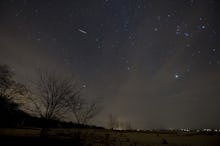 If you're getting tired of driving around town and looking at Christmas lights, the Geminid meteor shower will hit its North American peak tomorrow night on Dec. 13 and through to the morning of Dec. 14. While this is normally considered to be "the best meteor shower of the year," according to NASA meteor expert Bill Cooke, it will be somewhat obscured by the co-occurring full moon. However, this doesn't mean you still can't enjoy the show.
Geminid meteor shower time
One should expect the shower to start around 10 p.m. Eastern on Dec. 13 and to continue into the early morning of Dec. 14 If you can stay up for it, the best time to watch is around 2 a.m., where as many as 120 meteors per hour can be seen. Of course, as a result of the full moon, most people will likely see quite a few less. 
First, we'd suggest going somewhere as far away from the city and any amount of pesky light pollution as possible. With the supermoon in the way, the lights from your neighbors' houses will make the meteors even harder to see, so make sure you get into a darker area.
Best spots to view Geminid meteor shower
The Geminids appear in the same area of the sky as the constellation Gemini (also known as the twins). As such, they will be located in the northeastern region of the sky just above and to the right of Orion, another easy-to-spot constellation.
Is there any way to avoid the supermoon when watching the Geminids? 
Unfortunately, no. The moon is going to be there no matter what you do, but as long as you get to a relatively dark area tomorrow night, you should be able to see at least a few shooting stars, albeit not exactly the grand light show of previous years.