Massachusetts weed laws: What to know about legalization in the Bay State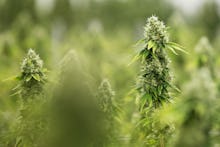 Massachusetts residents will soon be able to possess, use and grow marijuana for recreational use. Following the state's decision to legalize marijuana with 53% of the vote in the Nov. 8 election, the Regulation and Taxation of Marijuana Act will officially take effect this Thursday, Dec. 15.
The date on which the law would take effect was called into question last week, the Boston Globe reported, as Secretary of State William F. Galvin warned the measure may be delayed. The postponement, however, has not come to pass, with Galvin announcing Friday he would submit results of the measure to the governor's office for certification Wednesday, Dec. 14 — allowing the legalization measure to begin Dec. 15 as planned.
"This closes the door on an era that was marked by hysteria, by injustices, and by ineffective public policy," Yes on 4 spokesman Jim Borghesani told the Boston Globe. "This opens up an era that may take a bit of getting used to, but as in many other social transformations, people will look back and say: What were we so worried about?"
Here's what to know about the new legislation before it takes effect.
Legalization measures beginning Dec. 15
Beginning Dec. 15, Massachusetts residents aged 21 years and older will legally be able to possess, use and purchase up to 1 ounce of marijuana. Marijuana use will remain illegal in public places and places where tobacco use is already prohibited, including workplaces, museums, bars and the T, Boston's public transportation system, the Boston Globe noted. In primary dwellings, Massachusetts residents will be able to possess up to 10 ounces of marijuana and grow a maximum of 12 plants per household, so long as the space is equipped with a lock or other security measures. 
Other restrictions include the prohibition of any open container of marijuana in the passenger area of a motor vehicle, as well as the cultivation of marijuana plants in places where plants are "visible from a public place without the use of binoculars, aircraft or other optical aids." Employers will have the ability to enact and enforce workplace policies against marijuana consumption for employees, and the new law will not change an existing Massachusetts law that prohibits driving while under the influence of marijuana.
As of Dec. 15, Massachusetts residents will also be able to legally purchase and sell marijuana 
January 2018
While many aspects of the legalization bill will immediately take effect, others will take a bit longer to become official. Retail stores won't be able to open and begin selling the drug for recreational use until January 2018, giving Massachusetts legislators one year to set regulations. The state's marijuana
The measure stipulates that if the Cannabis Control Commission fails to adopt regulations by Jan. 1, 2018, the state's medical marijuana treatment centers may begin to cultivate and sell marijuana for recreational use until licenses become available. These medical marijuana facilities will also have the first chance to apply for a recreational marijuana license before others without existing cannabis experience are allowed to apply through a lottery system.
Finally, individual cities and towns will have the right to regulate, limit and prohibit marijuana establishments within their borders, and all marijuana sales will be subject to a 3.25% excise tax on top of the state's existing 6.25% sales tax. Individual municipalities will be able to impose an additional 2% local tax as well.