How to get Pichu and Togepi in 'Pokémon Go': Everything we know about the Gen 2 Pokémon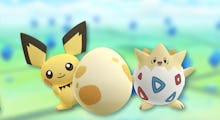 The Pokémon Go Gen 2 additions are finally official! After teasing that we'd finally see details on the second generation of Pokémon (aka ones introduced after the original 151) added, Niantic and the Pokémon Co. have finally revealed the highly anticipated update. Pokémon Go Gen 2 additions like Pichu and Togepi can now be obtained by hatching an egg. Here's what you need to know.
How to get Pichu in Pokémon Go Gen 2
The baby form of Pikachu, Pichu was introduced in the Pokémon Gold and Silver games, making it a Gen 2 pocket monster. As mentioned in the trailer, Pichu is only obtainable at random by hatching an egg.  
You'll be able to start hatching Pichu and all other Gen 2 Pokémon Go additions Monday at 1 p.m. Eastern (10 a.m. Pacific).
How to get Togepi in Pokémon Go Gen 2
Like most second-generation Pokémon, Togepi was introduced after Pikachu, Charizard and the rest of the original 151. But, it was also one of the first of the new Gen 2 Pokémon to make its debut. Now this fairy-type Pokémon is among the first of the second generation to appear in Pokémon Go.
Much like Pichu, this pocket monster can only be obtained through egg-hatching.
Pokémon Go Gen 2: That's not all.
More exciting than Pichu and Togepi, however, may be the unannounced Gen 2 Pokémon that were added to Pokémon Go. The announcement from Niantic hints at "several other Pokémon" making their way to the game as part of the same update.
More Pokémon Go hacks, tips and tricks
Before you head out to hatch a Pichu or Togepi, you may also want to check out Mic's Pokémon Go guides. Here's the new top 10 attackers list and the new top 20 rankings following the balance update, guides on post-update Chansey and Rhydon, everything you need to know about finding the long-awaited Pokémon Ditto, creating new PokéStops, how to maximize your chances of catching Pokémon and fresh information about how PokéStops distribute Pokémon eggs.