How to use 3D Touch: Tips and tricks for using iPhone 3D Touch to make your life easier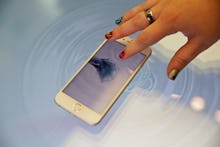 3D Touch can be the ultimate shortcut for iPhone users. Rather than opening apps and navigating through their menus, 3D Touch can be utilized to access commands straight from the home screen. That's just scratching the surface — 3D Touch can be used in a plethora of ways to make the iPhone more convenient. Here are some of the best 3D Touch tips and tricks you should use.
Press down on the left edge of the home screen to reveal the task switcher. Just make sure the iPhone is unlocked first, and this trick can save you a fraction of a second instead of double-tapping the home button.
Hold down the camera app to take instant selfies. In a pinch, you can use 3D Touch directly from the home screen. 
Firmly press the keyboard to freely move the cursor around. This one can be so helpful as it's sometimes challenging to navigate the cursor.
3D Touch the Maps app to get directions home. Save a bunch of time without entering directions into the app — this works with Google Maps too. 
Hard-press to activate live photos. Once inside the Gallery app, use 3D Touch to bring still photos to life — they'll animate just like Harry Potter pictures. The same technique works if you set a live photo as your lock screen image, no phone unlocking required. 
Hold down links to preview content. The page will load in a few seconds depending on your internet connection. Once loaded, you can swipe up to either fully open the page, add it to your reading list, or copy the URL to send somewhere else. 
Apply pressure to make your sketches darker. When sketching within the Notes app, press harder to darken the line of your drawing.