How big of a ham should you buy, and how much ham per person should be served at Christmas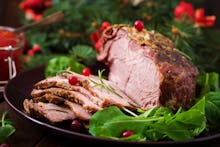 Buying a Christmas ham is a big job, both literally and figuratively. Not only are you responsible for the stunning key to the Christmas meal, but you need to make sure you have enough pig to feed your entire crew, and then some, because you know people are always picking for seconds. 
So how big of a ham should you actually buy?
Whole Foods Market recipe developer and food editor Molly Siegler suggests planning for one-quarter to a half a pound per person for a boneless ham and one-half to three quarters of a pound per serving for a bone-in ham. 
In other words, if you're serving 10 people, you'll want a boneless ham that weighs between 2 1/2 and 5 pounds or a bone-in ham that weighs between half a pound or 7 1/2 pounds. For easy ham prep, Siegler recommends spiral sliced precooked hams for this time of year because "they work so well for serving and make holiday preparation a little easier," she wrote in an email. 
Whole bone-in hams typically weigh between 10 pounds and 18 pounds, boneless or spiral sliced hams weighing in at 7 pounds and 10 pounds. Half hams, of course, are another viable option for small crowds. 
The average ham loses about 15.4% to 22.6% of its weight when baking, so remember that purchasing a raw half-pound serving per person doesn't equate to half a pound of baked ham on a plate. If your family has some big ham fans, up the quantity. Keep in mind that a 3-ounce serving of cooked ham, i.e. a quarter-pound, is 130 calories. 
And of course, if you want leftovers, plan to buy in half-pound increments accordingly, to ensure you have some meat between Christmas and New Years to make a few special sandwiches. 
Whatever you decide, it's Christmastime, so go ham!