11 of the best gifts for your bearded beloved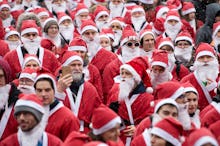 If you look at a hairy-faced gentleman and think, "He is so lucky because that must take zero effort to maintain," you are so wrong. 
Beards, especially the luscious, shiny, thick kinds of beards that turn heads, require constant maintenance. A good rule of thumb is that the longer the beard, the more upkeep required.
Products like beard shampoos, oils and brushes aren't just a way for the Big Beard industry to squeeze more money out of you; they're really important if you want an enviable beard.
Which is why, when shopping for the bearded human in your life, we suggest the following gifts to make his life not only more handsome but way easier, too.
Editor's note: Prices and product availability are subject to change throughout the holidays. 
An instant "wilderness face": $12.95
Light sticks with fire. Wait for smoke. Waft smoke into face. Beard smells like campfire. Campfire Cologne could be a joke, but we're choosing to believe that it's a divine invention that'll have bystanders craving s'mores.
Something to wash out all that smoke: $25
Beard soap, such as Mr. Natty Face Forest Soap, is designed for coarse hair in mind, meaning that it cleans the skin beneath all the bush. Mr. Natty conditions the hair itself with rosemary and peppermint fragrance.
A very supportive mug: $16.33
Whether you mean it sarcastically or not, something that holds their coffee while simultaneously showing your appreciation for their commitment to bearding is a great gift idea. This mug by Not On The High Street vendor Veronica Dearly says everything you need it to say.
Convenient combing: $23.99
One of the first steps to having a great looking beard (besides growing it) is combing it out in the direction you want it to grow. This folding beard comb from Etsy vendor LIMLazer comes in your choice of alder, cherry, or walnut wood and folds down for a convenient carry.
Bristles for those bristles: $40
Or maybe a brush is more their style: These beard brushes from Zeus offer another go at beard maintenance and quality. The Military-Style 100% Second Cut Boar Bristle Oval Brush Set is best for guys with sensitive skin or sparser beard growth, helps distribute natural oils throughout the beard and comes with a brush cleaner. 
A pack of the smell-goods: $39
You think all that chin hair's just going to naturally smell nice all the time? Not always. Beard oils are key for keeping the hair conditioned while also smelling fresh and clean. But chances are they might not know what fragrance they like best, so a sample kit is a good way to go. This box from Fit For Vikings features seven samples in blends of licorice, aniseed, sweet orange or sandalwood, to name a few.
A holiday facial: $5.99
Why not give the beard in your life a little seasonal spirit and hook them up with a set of these beard ornaments from Etsy vendor Beardaments? At $5.99 for a pack of 12, it's a perfect stocking stuffer.
A trim by an expert: Around $15-25
One of the best ways to learn how to take care of your beard is to go to an expert, watch him tackle yours, and ask him questions. This is why buying your bearded bud a seat in a barber's chair for a beard trim will be a gift that keeps giving.
A beard savior: $18
Balm — basically leave-in-conditioner for a beard — is a salve for any itchy, wiry facial hair. The Italians behind the staid brand Proraso have it figured out; their balm, with eucalyptus oil and menthol, adds a fresh scent and tingle combo while keeping a beard as soft as it can be.
Any book by Nick Offerman: Prices vary
This shouldn't need an explanation, but any book by Nick Offerman (while technically not a bearded man, himself) are veritable manuals on how to live a bearded life to the fullest.
A final touch: $21.98
No beard is complete without a pipe sticking out of it. They don't actually have to put any tobacco in it (heck, we doubt half the hipsters in Brooklyn actually smoke anything out of their pipes, but they sure look cool faking it). These Country Gentleman Corn Cob Pipes from Missouri Meerschaum are a trademark-maker.
This month, Mic Essentials brings you handpicked deals, reviews, recommendations and gift ideas. For more ideas, see our lists for Dad, your girlfriend, your boyfriend and for that secret Santa gift exchange you're attending. If you buy something through a link on this page, Mic may earn a small commission.