'Celebrity Apprentice' 2017: Cast, spoilers, preview and Trump controversy explained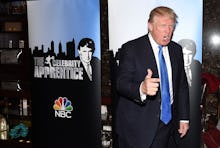 Reality TV stars, professional athletes and musicians will be featured on the upcoming season of Celebrity Apprentice, but the roster of competitors is hardly the most dramatic aspect of the the reality TV show, which begins Jan. 2, 2017. Hosted by former bodybuilder, actor and governor of California, Arnold Schwarzenegger, Celebrity Apprentice will air on NBC at 8 pm. Eastern. 
Returning after a two-year hiatus, the reality show, which was hosted and propelled to fame by Donald Trump, is retaining the president-elect as an executive producer — a move which marks one of the many and varied conflicts of interest for the politician before he begins his term in the Oval Office. 
Trump's financial interest in the show was confirmed to Variety by his spokeswoman Hope Hicks. His per-episode fee is unknown but speculated to be in the five figures. 
History of The Apprentice
The show first launched in 2004, with Trump judging a group of aspiring business moguls performing various tasks for his evaluation. Its current format, featuring celebrities in competition, began in 2008 and continued until 2015, when NBC distanced itself from the then-presidential candidate following his controversial statements about Mexican immigrants, calling them drug dealers and rapists. 
Following the release of the Access Hollywood tape of Trump conversing with host Billy Bush and bragging he was able to assault women because of his celebrity status, former participants and staffers on the show reported allegations of harassment by the then-candidate. Requests were made for MGM to release footage of such behavior. MGM refused to to do so. 
The contestants
Competing on the upcoming season are: Grammy winner and singer-songwriter Boy George, CEO of ModernMom.com and actress Brooke Burke-Charvet, host of Big Morning Buzz Live Carrie Keagan, celebrity stylist and reality TV star Carson Kressley, martial arts fighter Chael Sonnen, Hall of Fame running back Eric Dickerson, comedian Jon Lovitz, daughter of Muhammad Ali and retired boxing champion Laila Ali, reality TV star Kyle Richards, Olympic gold medalist Lisa Leslie, host of American Ninja Warrior Matt Iseman, reality TV star Nicole "Snooki" Polizzi, lead singer of Mötley Crüe Vince Neil, singer-songwriter Carnie Wilson and TV personality and model Porsha Williams.
Conflicts of interest 
Trump's involvement in Celebrity Apprentice marks the latest in the numerous and varied conflicts of interest regarding his business investments. 
Trump's official title is executive producer, one that Vox reports will be largely ceremonial and have little to do with day-to-day activities and decisions regarding the program. But he will benefit financially if the show is successful. 
Trump stated on Twitter he would have "nothing" to do with the show — and, in the same Tweet, stated that he had a "big stake" in it. 
His campaign manager Kellyanne Conway, said on CNN, "Presidents have a right to do things in their spare time or their leisure time" and compared the program to President Barack Obama's hobby of golfing.
The show is produced by MGM, so Trump will not be paid by NBC directly, but the network, home to such programs as NBC Nightly News and Meet the Press, is now involved in a show which financially impacts the president-elect of the United States. 
In light of Trump's other conflicts of interest, the Celebrity Apprentice doesn't inspire the biggest worry, but it is representative of something worse: the intertwining of a politician with a major news network. 
The president-elect's relationship with the press has been contentious, marked by him reportedly inviting media heads to his apartment and proceeding to berate them. He also had an issue with the New York Times, disagreeing on whether a meeting would be off the record or not. The New York Times ultimately live-tweeted the meeting and reported the transcript in full. 
The impact of Trump's involvement with Celebrity Apprentice, as with many of the decisions of the president-elect, remains to be seen. 
Mic has ongoing coverage of Celebrity Apprentice. Please follow our main Celebrity Apprentice hub.