Alabama man makes girlfriend think he's being targeted by police, instead proposes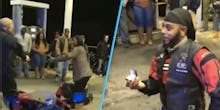 An anxiety-inducing proposal is going viral and attracting criticism for making light of police brutality.
On Friday, Daiwon Mcpherson, 33, executed an elaborate proposal to his girlfriend of five years, 28-year-old Shawna Blackmon. The plan was to irritate her all day, then take her out for an apology dinner that night — but in order to really invoke the element of surprise, Mcpherson added another detail: the Mobile, Alabama, police. He arranged for officers to menace him with tasers when Blackmon arrived on the scene, ensuring she would be feeling acute fear for Mcpherson and definitely not expecting a marriage proposal.
"I was going through so many emotions from being mad at him to being scared something happened to him pulling up ... all I knew is that I needed to protect him no matter what," Blackmon told the Shade Room, recalling her reaction to being told her boyfriend was running from the police and carrying a gun.
Blackmon told AL.com that when she arrived at a local gas station to see two police officers standing over Mcpherson, who was kneeling on the ground, she "thought he was going to jail." Police allowed her to approach her boyfriend and take the gun he purportedly had on him, but what he pulled out of his pocket instead was an engagement ring. That this was an involved set-up, Blackmon said, "never crossed my mind... I had no idea." Mcpherson did not think that she would.
"First thing they're gonna think is, 'Oh, we got another young, black male gonna get killed by two police officers,'" Mcpherson told KATU 2. "Nope, that was the whole flip."
While the proposal had its intended effect — Blackmon was surprised, and she said yes — some of those who viewed the video found the stunt offensive, pointing to its potential for tragedy.
"That is not cute," one Instagram user commented on the Shade Room's post. "Why would you...use...police brutality to propose to someone. Imagine if she freaked out and tried to run or attack the police and ended up dead." 
Which, considering the vast array of everyday actions that have resulted in black people's deaths, seems a not unlikely outcome. But Blackmon told KATU 2 she approved: "I felt like that was the perfect set-up for him to do something like that and to bring everybody together."