When does 'The Walking Dead' season 7 return?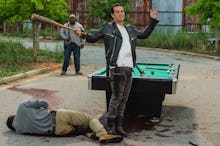 The Walking Dead finally got its shit together and capped off an underwhelming seventh season with a strong (and for the first time in a while, watchable) midseason finale. It ultimately led Rick and the group to a conclusion they should've made weeks ago, but here we are: They're prepared to fight back against Negan and the Saviors, and will probably have some help with other communities — the Hilltop Colony and the Kingdom — in doing so. 
That's all well and good, but now that the series has some momentum amid a huge ratings drop, it will be taking a brief hiatus before the start of the comic book's action-packed "All Out War" storyline. 
So when will The Walking Dead return for season 7B? 
According to AMC, the series will make its return Feb. 12 at its usual time: 9 p.m. Eastern. This is par for the course with the show's other midseason returns, meaning there are only a couple of months before getting back into the post-apocalyptic swing of things. 
In the meantime, what can fans do to pass the time? Well, you can always debate whether Negan looks better with a beard, or clean-shaven; whether Spencer really does have guts; if Shiva is the greatest CGI animal in TV history; and who the mystery character with the fancy boots could be (our money's on a member of the Whisperers).
Mic has ongoing Walking Dead coverage. You can follow our main Walking Dead hub here.