'Overwatch' Winter Wonderland Update Released: Christmas event with new skins goes live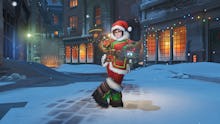 The holiday season has officially come to Overwatch.
A new patch just hit the PC, Xbox One and PS4 versions of Overwatch that brings with it the Winter Wonderland event, which lasts until Jan. 2. Like previous seasonal events, it includes lots of skins, cosmetic items, a new mode and some temporary map makeovers.
Here's everything you need to know.
Overwatch Winter Wonderland: Skins, emotes, victory poses and more
If you want a quick look at all the new skins and other unlockable items, check out the video below. We've also created a separate article with high-resolution images of every skin so you can peruse them at your leisure.
Overwatch Winter Wonderland: Mei's Snowball Offensive mode
The temporary Winter Wonderland mode is a 6-on-6 mode set at the Ecopoint: Antarctica map. In this mode, everyone plays Mei, but her endothermic blaster shoots snowballs instead of its usual stream of ice. And, after shooting a single snowball, players have to run to a nearby pile of snow to reload.
Each player only takes one hit to defeat, so if you shoot your blaster and need to reload, keep your eyes peeled for enemy Meis while you look for the nearest pile of snow. Otherwise, you might get a surprise snowball to the back of the head.
Overwatch Winter Wonderland: Map makeovers for Hanamura and King's Row
Here's what you can expect Hanamura to look like during the Winter Wonderland event:
And here's the holiday-themed King's Row map:
Overwatch Winter Wonderland update: Watch the trailer for the Christmas event
To see the Winter Wonderland event in action, check out the official trailer for the event embedded below.
Overwatch 2.01 full patch notes
Tuesday's patch didn't just usher in the Winter Wonderland event. Symmetra's new reworked ability set and a ton of other bug fixes were also included. Check out the full patch notes here.
More Overwatch news, updates, tips and tricks from Mic:
If you're ready for more Overwatch, check out fans' best ideas for holiday-themed skins, this weird story about players debating Bastion's gender on Reddit, the latest details on season three of competitive play and a look at the new Oasis map on the PTR.
Dec. 13, 2016, 4:36 p.m.: This story has been updated.