A new oil spill near where #NoDAPL protestors are camping out just proves their point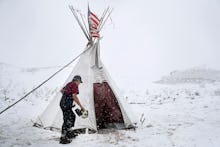 A leak in the Belle Fourche Pipeline has spilled "more than 176,000 gallons of crude oil" into a nearby Belfield, North Dakota creek, CNBC reported. The leak occurred just 150 miles from where members of the Standing Rock Sioux tribe and their allies have been camping out for months to protest the building of the Dakota Access Pipeline on grounds that the structure could contaminate drinking water and destroy ancestral lands.
The leak was discovered last week by a landowner rather than the monitoring device which should have detected it. Wendy Owen, a spokesperson for True Cos., the company that is responsible for operating the pipeline, told CNBC that it has not yet determined why the equipment didn't detect its own leak. "We have several working theories and the investigation is ongoing," she told CNBC.
Bill Suess, program manager for the North Dakota Department of Health's spill response team, told CNBC the pipeline had leaked into Ash Coulee Creek, spreading "almost six miles" through private and public land. So far, he said, local drinking water is still uncontaminated and crews have recovered "about 37,000 gallons of oil."
After months of protest, the U.S. Army Corps of Engineers announced early in December it would deny a permit which would allow the Dakota Access Pipeline to continue its planned route under Lake Oahe, effectively halting construction. 
The news was widely considered a victory for the thousands of people who had gathered at protest sites in North Dakota and their supporters around the world. However, in a statement, the companies behind the pipeline said they were "fully committed to ensuring that this vital project is brought to completion" and "fully expect to complete construction of the pipeline without any additional rerouting in and around Lake Oahe."