Donald Trump will move US Embassy in Israel to Jerusalem, says Kellyanne Conway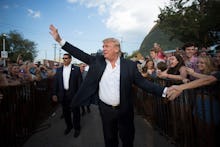 President-elect Donald Trump's former campaign manager and top adviser, Kellyanne Conway, made it clear that moving the United States Embassy in Israel from Tel Aviv to Jerusalem remains a "very big priority" of the real estate mogul's future administration.
"He made it very clear during the campaign, and as president-elect I've heard him repeat it several times privately, if not publicly," Conway said on right-wing radio host Hugh Hewitt's show, reported the Guardian.
"It is something that our friend in Israel, a great friend in the Middle East, would appreciate and something that a lot of Jewish Americans have expressed their preference for," she added. "It is a great move. It is an easy move to do based on how much he talked about that in the debates and in the sound bites."
Moving the embassy to Jerusalem would no doubt please Israeli Prime Minister Benjamin Netanyahu's right-wing government, but it would also upset decades of state department policy and enrage Palestinians and their Arab allies in the region.
The U.S. Embassy is currently located in Tel Aviv because most foreign nations have never formally acknowledged Israel's claim of total sovereignty over Jerusalem. While Israel has held West Jerusalem since the 1948 Arab-Israeli War, its annexation of East Jerusalem in the 1967 Third Arab-Israeli War was unanimously opposed by the United Nations and is considered an illegal military occupation by the vast majority of the international community.
Prior U.S. presidential administrations have pursued a diplomatic solution to the Israeli-Palestine conflict which would see the city's status determined by peaceful negotiations. Until President-elect Donald Trump, U.S. presidents have deferred a 1995 congressional measure backed by Republicans ordering the embassy's move to Jerusalem, fearing it would derail a deal.
Moving the embassy to Jerusalem would be an unmistakable recognition of Israeli rule there, which could potentially inspire renewed violence, further destabilize the Levant region and jeopardize future efforts to reach a peace deal. It would also more closely stake U.S.-Israeli relations around a far-right consensus out of touch with much of the world.
However, the president-elect has already been less than diplomatic in some of his interactions with the rest of the world, having already angered China by accepting a phone call from the Taiwanese president, allegedly lied about a conversation with Mexico's president and engaged Pakistan's prime minister in a bewildering phone call which could worsen tensions with India.