All 'Overwatch' Christmas skins and other unlockable items in the Winter Wonderland update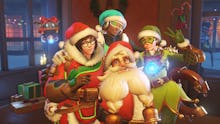 Every seasonal Overwatch event ushers in a load of limited-time unlockable goodies — like skins, highlight intros and emotes — and the new Winter Wonderland event is no exception. As usual, these items have a chance of appearing in every loot box you earn while the event is running, but you can also purchase them individually with coins — for three times the price of a normal item. For example, a normal skin might cost 1,000 coins, but a Winter Wonderland skin of the same rarity costs 3,000 coins. 
Here's every skin, highlight intro, victory pose, spray and emote you can earn during the Winter Wonderland event, which runs from Dec. 13 through Jan. 2.
All Overwatch Christmas skins in Winter Wonderland
We've embedded a video showing every single unlockable item at the end of this post, but here are screenshots of all the new Winter Wonderland skins in case you want to take a closer look.
Lúcio
McCree
Mei
Pharah
Reaper
Roadhog
Sombra
Torbjörn
Tracer
Winston
Zarya
Zenyatta
Overwatch Winter Wonderland skins, emotes, highlight intros and more
Here's a video that goes over all the other unlockable goodies:
Overwatch patch update 2.01: Everything you need to know
The newest Overwatch patch didn't just add the Winter Wonderland event. Symmetra's new reworked ability set and a bunch of other bug fixes were also included. Check out the full patch notes here.
More Overwatch news, updates, tips and tricks from Mic:
For more on Overwatch, read our guide to checking your Overwatch stats, look at our list of the best gender-bent Overwatch cosplay, read the story of how a bunch of Redditors got an unexpected Arabic lesson after debating Bastion's gender and read up on the new Oasis map on the PTR.