Donald Trump picks Goldman Sachs executive Gary Cohn to lead National Economic Council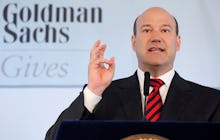 President-elect Donald Trump has chosen Goldman Sachs president and chief operations officer Gary Cohn as director of the National Economic Council — a key position that advises the president on economic matters.
In a statement, according to the Wall Street Journal, Trump said Cohn would be his "top economic adviser" in the job, a position originally established by former President Bill Clinton.
"I believe the American people and the president-elect are fortunate that he has chosen to serve his country," Goldman CEO Lloyd Blankfein said in a separate statement emailed to the Goldman Sachs Alumni Network. "I am confident that Gary will bring his many talents and expertise to the White House and will do his part to make our economy stronger for all Americans."
Blankfein wrote Cohn "has decided that he will accept the appointment" and he "will remain president and chief operating officer of Goldman Sachs through year-end. He will then serve as a senior director of the firm until his appointment is official."
Unlike others appointed to Trump's administration, Cohn is a self-made man, raised in a blue-collar household in Ohio. He overcame severe dyslexia to ascend to the No. 2 post at Goldman, where he earns millions of dollars.
But not everyone is likely to cheer the announcement, which represents yet another Goldman pick by the president-elect: In addition to Cohn, Trump has named former Goldman banker Steve Mnuchin as his secretary of the treasury and former Goldman banker Steve Bannon as his chief strategist. 
Some, like Vox's Matt Yglesias, have pointed out that former Goldman Sachs bankers now hold two of the highest economic positions in government, a heavy irony given Trump's populist, anti-Wall Street rhetoric on the campaign trail — which often singled Goldman out specifically. 
Indeed, there are business entanglements between Trump and Goldman Sachs that could financially benefit Trump.
And the market seems to think Goldman Sachs stands to benefit disproportionately from Trump's presidency. 
The so-called "Trump bump" is in no small measure for this reason: At one point after the election, as captured in the tweet below from Center for American Progress economist Michael Madowitz, roughly a quarter of the recent gains for the Dow Jones Industrial Average have come from a rise in Goldman Sachs' stock price alone. 
Cohn's appointment is extremely likely, since the head of the NEC doesn't need to be approved by the Senate.
The job is also seen as a stepping stone to a more prominent position in the Treasury Department.