When will 'Fuller House' season 3 come out on Netflix?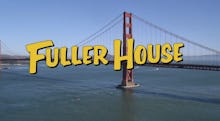 Fuller House's second season dropped on Dec. 9, less than a year after its first. So you know what that means: everyone is already clamoring to know when the third season will premiere. Though there isn't an official release date yet — or even a definite renewal — but analyzing Netflix and the show's patterns can be of some assistance in predicting the future of the series. 
Will Fuller House even get a season 3? 
It does seem likely that Fuller House will be renewed for a third season. According to IndieWire, it is one of the "most watched television shows of the year," in good company with The Walking Dead and Sunday Night Football. Barring some creative differences or cast members leaving, there's reason to remain optimistic about a season 3. And since creator Jeff Franklin just bought the home with the big, red door from the original series, the show's future looks even more promising.  
When should fans of Fuller House expect a Season 3? 
Viewers got two seasons in one year, a fact that would make any fan of the BBC's Sherlock series weep uncontrollably. But if you are still wondering when season three is likely to be announced, remember that the second season was green-lit a week after the first dropped on Netflix. As such, you can probably expect an announcement about the next season and its release date around late December or early next year. 
Some are speculating that, because the recent season was centered around Christmas, fans can expect a third season about a year from now to coincide with the holiday. However, since the first two seasons were ten months apart, others say fans should expect an October release centered around Halloween. 
Of course, this is the franchise that, itself, wondered "whatever happened to predictability?" So it's best to be prepared for anything.