Why is everyone tagging "Singapore" on Instagram? Stars say it helps their posts go viral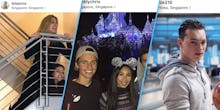 No, all of your favorite Instagrammers are not on vacation together in Singapore.
In the past few weeks, however, hoards of top Instagrammers have been geotagging their posts with "Singapore, Singapore," in an attempt to go viral.
They believe that changing the location of their Instagrams to Singapore helps their posts reach more people and end up on the Explore page.
In the past two weeks alone, internet stars such as King Bach, Amanda Cerny, Lele Pons, Dan "King of Instagram" Bilzerian, Christian Collins, Logan Paul, Jerry Purpdrank, Sommer Ray and others have all been ostensibly posting from Singapore, when in fact most never left Los Angeles and none have been traveling to Asia.
"Always a good time at Disneyland," Christian Collins, who has 3.8 million Instagram followers, wrote in the caption of a Dec. 10 photo of himself at Disneyland with YouTube star Eva Gutowski and Vine star Brent Rivera. The Instagram's geotag, of course, reads "Singapore, Singapore."
Celebrities don't know why or how it works, but they all insist it does.
When questioned about this approach, none of the internet celebrities I spoke with seemed to fully understand how the trick works or why it gained popularity. 
Some guessed that Instagram has been slower to roll out the algorithmic feed in certain Asian countries such as Singapore, and that by geotagging their posts there, they're able to reach the top of users' feeds more easily. The "slow rollout" explanation might not be the case, though: Instagram actually released its new algorithm-based feed in Singapore in April.
It's also worth noting that none of these stars previously had a significant portion of their audience based in Singapore. Their attempts to game the feed are aimed at reaching U.S. audiences.
"You keep Singapore up for 12 hours, then you change it," said one verified Instagram user. "It's fully ridiculous and dumb, but it works. I'm not sure why or if it's just because it's become a meme, but the 'Singapore, Singapore' posts do way better. It 100% works."
Several popular meme accounts seem to prefer the Sentosa, Singapore, location rather than the broader Singapore, Singapore.
Some users say the Singapore tag does nothing but confuse followers.
Because most influencers and large accounts only leave the tag up for a day or so, it's hard to tell which past posts have received the mysterious "Singapore boost," but one thing's clear: The geotag does lead to more mystified comments.
Searching on Twitter for "Instagram Singapore" reveals hundreds of befuddled followers. 
Tiffany Zhong, a 20-year-old entrepreneur and avid Instagrammer, said she heard about the Singapore trend last week after Jake Paul, a former Vine star with 3.8 million followers on Instagram, did an Instagram Story about it.
"He was totally calling people out for using the hack." she said. "I tried it myself... but my friends messaged me and were like, 'This is not in Singapore.' It was kind of embarrassing.
"I think it's smart to figure out these loopholes, though. They're not doing anything illegal or wrong."
An email to Instagram about the trend went unanswered. I tried to leverage the hack on my own account, but it didn't seem to have any sort of measurable impact. Most of my friends thought I was making some sort of weird joke. "Why does it say you're in Singapore?" commented one friend. "I don't get it."
Feel free to try it on your own account and report back. In the meantime, you can sleep easy knowing everyone isn't hanging out in Singapore without you.