'Pretty Little Liars' Season 7B Trailer: the return of Wren and other shocking moments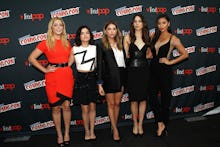 Pretty Little Liars only has 10 episodes left in the series, but the teen drama still has many mysteries to solve before viewers say goodbye to the residents of Rosewood. And, based on the latest trailer teasing the final season, all signs indicate that it's going to go out with a bang. 
Based on Sara Shepard's book series, the TV show has followed the titular teenagers from the small town of Rosewood as they have fought an anonymous online bully who somehow knows all of their secrets and endlessly blackmails them. 
Since premiering in 2010, the wildly popular show has inspired many conspiracy theories from fans as to who the mysterious "A", and later "AD," is. 
The final season begins in April on Freeform. 
Wren is back 
And he has a buzzcut. The dangerously charming, highly suspicious Brit has been bad news for the Liars since the very first episode, where he kissed Spencer when he just happened to be engaged to her sister, Melissa. Since then, he's continued to pop into and out of their lives. He's been noticeably absent for the latest episodes, but he's right there at the beginning of this teaser video — and sporting a new, and much shorter, haircut. Looks like Wren's gotten a bit tougher in the time that's passed. 
"The Jenna Thing" is still a thing
Also within the first seconds of the trailer is Jenna Marshall, one of the Liars' chief tormenters since the first season. When we last saw her, she was chasing the girls with a gun and gasping, "You're AD" to an unidentified figure. Apparently she didn't go to jail, nor did AD send her packing, because she's seen facing off against Caleb, who's never had the time or patience for her meddling ways. 
Haleb is going strong
Speaking of Caleb, it looks like he and Hannah are still together. Look at how cozily they're standing, even as they stare anxiously at an unseen, but apparently frightening object, with their friends. Haleb shippers, rejoice! 
...but Ezria might not be 
Last viewers checked in with the "star-crossed lovers," their future was up in the air. Ezra had left town to help find his ex-girlfriend Nicole, whom he thought was dead, and Aria was watching their romantic reunion on television. The two had hit (another) rough patch before Ezra's departure, when he learned that Aria had seen a call from his ex and decided not to tell him, and it looks like that rough patch hasn't smoothed over. The video shows Ezra saying, "There are things that have been done that can't be forgiven," and Aria looking less than pleased to hear those words. 
Mary continues to be creepy
The mysterious, unknown twin of Alison's mother — and, as we learn at the end of the last season, Spencer's actual mother — hasn't left town or, presumably, Spencer's side, given that viewers see her skulking behind our favorite braniac. 
Yvonne is MIA 
Toby and Yvonne were leaving town, and he was forcing himself to leave Spencer behind. Toby is seen in the trailer, but Yvonne isn't. Hmm... Could another high school sweethearts reunion be in the future? 
Aria is still in denial
A truly LOL moment in the trailer shows Aria saying, "This can't be real." Oh, Aria. Haven't you learned anything in the last five years? You've been locked in a crate on a moving train, framed for countless crimes, learned that a friend who you thought for years was dead is actually alive and well and been held captive in an elaborate dollhouse-prison in the woods. Don't you realize that in Rosewood, anything can happen?
Hannah is going rogue 
Each of the Liars possesses their own unique characteristics, and Hannah — along with being the funniest — is also the most daring of the friends. In the previous season alone she faked a vacation, kidnapped someone and was prepared to torture him until he gave her the answers she needed. It doesn't look like much has changed, given that the 30-second trailer shows her wearing rubber gloves and opening what looks like a bodybag in Lucas' loft. The real question is: Who's in the bag? 
This show has ruined dolls for everyone
Throughout the last seven seasons, A and AD have teased and tortured the liars with dolls, and they're still being put to use in the trailer. Don't watch this show in someone's playroom. 
The fashion is still fierce 
No matter what danger the Liars are running from or who they're battling online or in a deserted cabin in the woods, they have looked fabulous every (high-heeled) step of the way, and the final season looks to be no different. Stay stylish, Liars. 
Mic has ongoing Pretty Little Liars coverage. Please follow our main Pretty Little Liars hub.