People are sending heartbreaking goodbye messages as Assad-backed forces seize Aleppo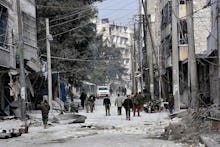 The Syrian Army has all but wiped out rebel forces in Aleppo, having claimed 99% of the city after relentless bombardment by Russian airstrikes and pro-government troops on the ground Monday. 
According to a Tuesday morning press briefing from spokespeople for the U.N. High Commissioner for Human Rights, Syrian President Bashar al-Assad's forces killed at least 82 civilians, 11 of whom were women and 13 of whom were children. According to the BBC, these people were "shot on sight." As many or maybe more than 100 children are trapped in a building that is under fire in East Aleppo, where government-backed troops are reportedly entering homes and killing at will. 
"To everyone who can hear me," activist Lina al-Shami said in a video message, tweeted from Aleppo Monday. "We are here exposed to a genocide in the besieged city of Aleppo. This may be my last video."
"More than 50,000 of civilians who rebelled against the dictator al-Assad are threatened with field executions, or dying under bombing," she continued. "According to activists, more than 180 people have been field executed in the areas that [the] regime have recently took control of, by Assad gangs and the militias that support them. The civilians are stuck in a very small area that doesn't exceed two square kilometers, with no safe zone, no life. Every bomb is a new massacre. Save Aleppo. Save humanity."
Al-Shami was among the many civilians, journalists and activists who tweeted final messages from Aleppo. People posted farewells and footage of the wreckage to social media, hoping to bring to the outside world's attention just how horrible the situation there really is.  
Bana al-Abed, the 7-year-old girl who for months has been tweeting from Aleppo with her mother, was among those who sent out farewells last night.