Donald Trump defies promise to resolve conflicts of interest before electors vote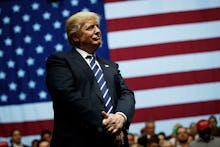 President-elect Donald Trump brazenly walked back a promise to hold a press conference explaining how he would resolve potential conflicts of interest from his sprawling international business empire on Monday, CNBC reported.
Trump originally said he would hold the press conference on Dec. 15, before the Electoral College votes on Dec. 19 to confirm his win in the presidential race in November. He added "legal documents are being crafted which take me completely out of business operations."
Trump notably has not addressed widespread criticism of his plan to set up a so-called "blind trust" to put three of his adult children, Donald Jr., Eric, and Ivanka Trump, in charge of his businesses — the key issue being that an organization managed by his kids would not actually provide any safeguards against unethical behavior. After Trump tweeted the press conference plans, the executive branch's Office of Government Ethics trolled him in a lengthy tweet storm seemingly intended to goad him into total divestiture from his business concerns.
The president-elect has numerous potential conflicts of interest which he has expressed little interest in substantively resolving, Mic's James Dennin reported, from real-estate development deals across the world and outstanding loans to the Bank of China to investments in energy companies Trump's proposed policies could benefit.
Some stories are outright unnerving, such as reports Trump used an official call with former United Kingdom Independence Party leader Nigel Farage to oppose wind farms within viewing range of his U.K. golf courses. Another story from NPR alleged Trump recieved a congratulatory call from Argentinian President Mauricio Macri and segued into a discussion of a stalled business development.
"His children managing the company, even if they never talk to him, would still be a conflict of interest as the law is traditionally understood,"  University of Toronto professor Andy Stark told Mic. "Your judgment is as skewed by what benefits your kids as much as it is by what benefits yourself."
While the president is formally excluded from federal conflicts of interest statues under existing Department of Justice standards, Trump could still run afoul of the Constitution's emoluments clause, which prohibits any office holders from conducting business deals or taking financial compensation from foreign governments without the consent of the U.S. Congress.
On Twitter, Newsweek contributor Kurt Eichenwald teased the decision to roll back the press conference could be related to an upcoming scoop about Trump's business interests.
When specifically pressed on the emoluments clause, Trump spokeswoman Hope Hicks responded, "The president- elect has been focused on putting a team in place to enact real change starting on day one. With so many iconic properties and successful entities, moving the announcement to January ensures the legal team has ample time to implement the proper protocols so his sole focus will remain on the country and achieving his ambitious agenda with the help of the world-class cabinet he has built."