Syrian White Helmets report atrocities, massacres in Aleppo as Assad forces take control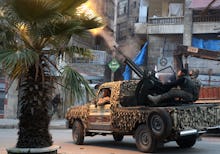 As military units loyal to Syrian President Bashar Assad and backed by Russian air forces moved in to purge rebel groups from the besieged city of east Aleppo on Monday, human rights observers including the Syria Civil Defence, also known as the White Helmets, reported widespread, wanton atrocities against civilians and others.
The official Twitter account of the White Helmets, a group of volunteer search and rescue workers sometimes accused of allying with Syrian opposition forces, issued a desperate plea for help on Twitter saying government forces were bombing densely packed civilians in rebel-controlled areas.
"+100,000 civilians are packed into a tiny area," the White Helmets wrote. "Bombing + shelling relentless. Casualties unimaginable. Bodies lie where they fell."
"We can not believe that the world's most powerful countries cannot get 100,000 souls four kilometers to relative safety," they added.
Other observers backed the White Helmets' account: The Syrian Observatory for Human Rights told CNN government forces were massacring relatives of Free Syrian Army paramilitaries in newly seized areas, including children. At a press conference early Tuesday, a spokesman for the UN High Commissioner for Human Rights said his office had received reports that pro-government forces in four separate neighborhoods — Bustan al-Qasr, al-Ferdous, al-Kallaseh, and al-Saleheen — had shot 82 civilians on sight. Some had even been killed in their homes, according to the Washington Post. Those reports were backed by Al Jazeera , which wrote residents of the al-Firdous neighborhood said "government forces summarily executed dozens of people over alleged connections to rebel fighters."
"The situation in the city at the moment is total chaos," Al Jazeera's Zouhir Al Shimale wrote. "There are constant air strikes by the regime and Russian warplanes, artillery attacks, mortar attacks ... If they continue to attack the remaining rebel-held areas, it is going to be catastrophe."
One alleged video of the aftermath of a bombing showed a burning man dragging himself across the street amid piles of flaming wreckage before the camera pulled back to reveal the cameraman and another individual were severely wounded.
According to Vice, some Syrians and others in the city posted farewell videos to social media amid the intensifying bombardment. U.S. journalist Bilal Abdul Kareem posted one message chastising regional governments for not intervening to protect civilians, saying "We may not be able to send any more messages as regime forces push closer and closer and the air strikes become even more intense if there even is such a thing as that."
Explosions and gunfire could be heard in the distance.
As Syria's military has aggressively pushed into east Aleppo, a major stronghold of both FSA and Islamist rebels, international NGO Human Rights Watch accused it of deploying chemical weapons such as white phosphorus against enemy combatants and civilians.
Government officials said they expected Aleppo to be firmly under control soon, with some supporters taking to the streets in celebration.
"The battle in east Aleppo should end quickly," Syrian Lt. Gen. Zaid al-Saleh told Al Jazeera. "They [rebels] don't have much time. They either have to surrender or die."
The U.S. State Department said on Monday that talks between the United States and Russia over a potential ceasefire had fallen apart, according to Al Jazeera, as Russian officials wanted to press their military advantage for several more days.
In February, the Syrian Center for Policy Research told the New York Times it estimated some 470,000 Syrians had died as a result of five years of civil war, with an additional $255 billion in economic damages.
Dec. 13, 2015, 7:12 a.m.: This story has been updated.