'Real Housewives of Beverly Hills' season 7, episode 2 recap: Lisa vs. Lisa saga continues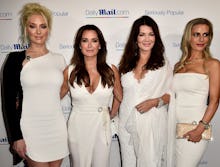 In the season seven premiere of The Real Housewives of Beverly Hills, we were introduced to the new housewife Dorit Kemsley and the continued war of Lisa Vanderpump vs. Lisa Rinna, but it looks like it was finally resolved – at least for now – in Tuesday's episode. 
In episode two of the new season, Vanderpump and Rinna seem to have finally buried the hatchet, Dorit's husband goes all out for her 40th birthday party and Erika Jayne (also known as Erika Girardi) continued her journey toward pop-superstardom.  
The fate of the housewives
The episode begins with Lisa Rinna and Kyle Richards going for a drive in Kyle's Lamborghini to discuss the other women. There is no better way to air your grievances with friends than in a convertible. The two discuss Lisa Rinna's issues with Lisa Vanderpump and how she realized at Erika Jayne's party that it's time to move past their issues. "Life's too short, you have to accept somebody for who they are," Rinna said with the wind blowing in her hair as Kyle drove. 
Dorit's birthday gifts
For Dorit's 40th birthday, her husband Paul dropped hints at buying her a car. Dorit warns the only color it can't be is Tiffany Blue. "That color shouldn't be on anything besides a box with something pretty inside," she said. Paul brings her outside to the driveway to surprise her with a Bentley Continental priced at $230,000 and, thankfully, it wasn't Tiffany Blue, so everyone was happy. 
At her birthday party, Paul presents Dorit with her own Buddha lounge in their backyard, filled with a sushi bar, ice sculptures and a giant portrait of her done by his new artist who "was the one who did the picture of Boy George at Goldie Hawn's," which is footage we hope Andy Cohen has. Lisa Rinna notes that the party is "on fleek" and suddenly it's 2015 again. 
Eileen goes back in time
Speaking of time travel, Eileen Davidson takes a trip to the set of The Young and the Restless to celebrate the show's 11,000th episode. She discusses her early days on the long-running soap opera playing Ashley and compares Ashley to Erika Jayne, hoping she would have a singing career and could perform in gay clubs around the world. We all aspire for that, Eileen. 
Erika Jayne: Never stop, never stopping
As Erika Jayne continues her career as the only housewife who doubles as a legitimate pop star (sorry, Melissa Gorga), she auditions dancers for her upcoming music video. The song is, of course, called "Expensive" and it will be her 10th video. Her choreographer, Mikey Minden, mentions the aesthetic they're going for is "bathing suits and heels." "This would be the first time I hit a split in a bikini," Erika admits in maybe her most relatable moment yet. 
Lisa vs. Lisa vs. Eileen 
As the girls enter the Kemsley's home one by one via golf cart for Dorit's birthday party, all the women arrive and it's time for the Lisas to finally have their moment.
Vanderpump starts throwing digs at Rinna after only just minutes together. After Rinna asks her where she got her long bedazzled gloves from, Vanderpump refuses to spill and says she won't be doing anything she asks her to do. Rinna laughs it off and then tells Dorit she lives close to their house. Vanderpump gets in another dig, saying it's not a good thing under her breath. For Rinna though, this is fine with her because it means they're communicating and that Vanderpump is "taking the piss out of her."
Davidson then has her moment with Vanderpump and when the two greet each other, she asks Vanderpump how she is doing, to which Vanderpump responds with, "I'm good, I'm busy, I'm happy, I'm surviving in a world that seems sometimes challenging," which is now the only possible response to that question. 
Sorry, not sorry
In what appears to be the moment Eileen has been waiting for, Vanderpump finally says she's sorry ... for her mother passing. Eileen laughs at first, assuming she was apologizing for disrespecting her in the Hamptons last season, but sadly, Eileen was very wrong. 
The Lisas finally have a sweet moment and Rinna apologizes to her for being so hard on her last year and admits that she was wrong. Vanderpump agrees to move past this – for now, at least. 
The Real Housewives of Beverly Hills airs on Tuesdays at 9 p.m. Eastern on Bravo. 
Mic has ongoing coverage of Real Housewives of Beverly Hills. Please follow our main Real Housewives of Beverly Hills hub.