Rex Tillerson is Donald Trump's pick for secretary of state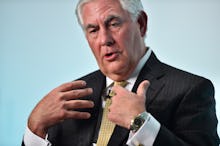 President-elect Donald Trump officially nominated Rex Tillerson as secretary of state Monday night, emerging as Trump's choice from a long list of potential candidates that included Mitt Romney and former New York City Mayor Rudy Giuliani.
"Rex Tillerson's career is the embodiment of the American dream. Through hard work, dedication and smart deal making, Rex rose through the ranks to become CEO of ExxonMobil, one of the world's largest and most respected companies," Trump said in a statement. "His tenacity, broad experience and deep understanding of geopolitics make him an excellent choice for Secretary of State. He will promote regional stability and focus on the core national security interests of the United States."
Tillerson, however, could face a tough road to confirmation in the Senate. 
Already, a handful of Republican senators have expressed concerns over Tillerson's ties to Russian President Vladimir Putin, who bestowed Tillerson with the Order of Friendship, one of the highest awards given out by Russia.
Tillerson also managed Exxon's account with Russia, an oil-rich country.
Skeptical Senate Republicans include John McCain, Lindsey Graham and Marco Rubio. 
If all three vote against Tillerson's nomination, his chances at confirmation could go down in flames.
Democrats, on the other hand, are expected to grill Tillerson on climate change.
As the CEO of Exxon Mobile, Tillerson's stance on oil drilling and underground pipelines will likely be a point of contention.