Donald Trump delays conflict announcement, promises "no new deals" while in office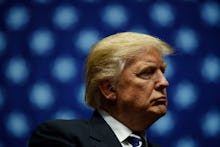 A press conference meant to ease concerns about President-elect Donald Trump's business conflicts during his presidency has been postponed until January.
Donald Trump initially scheduled a press conference for this Thursday to address issues relating to his conflicts of interest between himself and the many businesses that operate under his name.
But on Monday evening, Trump's transition team announced that he would be delaying the press conference. "The announcement has been rescheduled for next month," spokeswoman Hope Hicks said. No specific date has been set.
"No new deals will be done during my term"
Instead, Donald Trump himself sent out a series of tweets explaining that he'd be transitioning himself out of his business dealings before be becomes president, even though he's not obligated by law to make the move.
"No new deals will be done during my terms(s) in office," the president-elect said.
Trump also tried to explain last weekend that it wouldn't just be his children in charge of his business empire. "My executives will run it with my children," he told Fox News' Chris Wallace. "It's a big company, it's a great company. But I'm going to have nothing to do with management." 
Still, many remain skeptical. Former White House ethics adviser Richard Painter, for example, who served under Republican President George W. Bush, isn't convinced. "Is he going to continue to borrow money from foreign banks like Bank of China?" he recently asked rhetorically. "That is a deal. Or collect rent from foreign government-owned companies? That is a deal. Will he still be hiring people, or having people stay in his hotels?"
Blind trusts aren't usually run by relatives
Trump is correct that there isn't a law that requires him to move on from his business dealings — the president is technically exempt from conflict of interest laws. 
But presidents have traditionally taken great pains to distance themselves from their business dealings and investments before assuming the presidency. This usually means establishing a blind trust, which can often include liquidating assets and using the proceeds from those sales to create a portfolio that is managed by a third party, not a relative. 
Trump transitioning his business dealings to his children, therefore, would still be a conflict of interest, according to most policy experts.
No press conference since July
Trump's latest delay is causing a stir for another reason: He hasn't held a press conference in nearly five months, as Dan Diamond from Politico points out. 
The cancellation came after it was revealed this past week that Russian hackers had apparently attempted to influence the 2016 presidential election to favor Trump. 
The absence of a gathering of the press is especially curious because candidates who win presidential elections typically hold a press conference in the days after their victory, usually within the first three days of winning. Trump's delay and other evasions of the press have many concerned about press access to the president. 
Even presidents who have been considered shy or wary of unscripted press conferences have traditionally held one at least every two months, according to White House historian Martha Joynt Kumar.