Rex Tillerson and Russia: 3 things to know about his perceived conflicts of interest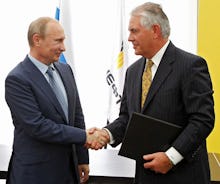 President-elect Donald Trump nominated ExxonMobil CEO Rex Tillerson as Secretary of State Tuesday morning, setting up what's likely to be an ugly confirmation battle in the Senate that will focus on Tillerson's close ties to Russia and its president, Vladimir Putin.
Republican Senators are already expressing doubt about Tillerson, saying his relationship with Putin and Russia — who are hostile toward Western democracy — is troubling.
Here are the conflicts they are likely concerned about:
1. Tillerson's ties to Russia are what helped him ascend to CEO of ExxonMobil
Tillerson, 64, has worked at Exxon-Mobil for the entirety of his professional career. 
But since the late 1990s, Tillerson managed Exxon's account in Russia — which has an economy largely based on its oil and natural gas riches. 
Tillerson's success with the Russian account is what helped him become CEO of the company in 2006, CNN reported, a position that earned him $27.3 million a year in 2015, according to the Washington Post. 
Alexey Pushkov, a member of the Russian parliament, praised Trump's selection of Tillerson as Secretary of State, saying in a tweet that Tillerson is a "sensation" who has "a lot of experience working with Russia."
As Secretary of State, Tillerson would be tasked with carrying out diplomacy between the U.S. and Russia.
And Tillerson's cozy ties with Russia could be a cause for concern for senators during his confirmation process, given Russia's alleged meddling in the U.S. election.
2. Tillerson helped Exxon usher through a deal with a Russian oil company that earned him an award from Putin
In 2011, Tillerson helped Exxon work out a partnership deal with Rosneft, an oil company that is majority owned by the Russian government.
The deal gave Exxon access to Russia's oil, while providing Rosneft — and therefore Russia — with access to Exxon's oil drilling technology in the Gulf of Mexico, CNN reported at the time. 
Putin himself attended the deal signing, and Igor Sechin, then Russia's deputy prime minister, said the deal grew Exxon and Rosneft's value by a combined $7 billion, Reuters reported at the time. 
The deal helped lead Putin to award Tillerson with the Order of Friendship, an award Russia gives to foreigners who exhibit, "special merits in strengthening peace, friendship, cooperation and mutual understanding between peoples" or who implement "large-scale economic projects" that "attract investment funds into the Russian economy."
3. Exxon could earn billions if Russian sanctions are lifted, which would boost Tillerson's stock in the company as well
Russia is currently under sanctions by the U.S. and the European Union for its military annexation of Ukraine.
The sanctions have stopped some of Exxon's projects in the country that are valued in the billions, the New York Times reported. 
In March, Tillerson appeared to be against the sanctions against Russia during a March analyst meeting, saying Exxon was "very anxious to get back to work" in Russia, according to a transcript published by the Securities and Exchange Commission.
As the nation's top diplomat, Tillerson would play a role in convincing Congress or the EU to lift those sanctions. If that happened, that could help Exxon, and by extension Tillerson, earn massive sums of money. 
Tillerson currently holds $218 million in stock options from Exxon, as well as a nearly $70 million pension plan from the company, according to the New York Times. 
Correction: Dec. 13, 2016