'Westworld' season 2 will answer important questions about the park and guests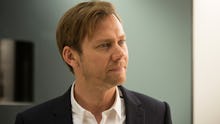 HBO's new hit series, Westworld, only recently concluded its first season, but fans are already anxious to have more of their questions answered. The series, which takes place in a futuristic park where humans and hosts interact, won two Critics' Choice Awards on Sunday night, and was nominated for three Golden Globes: best actress in a TV drama (Evan Rachel Wood), best supporting actress in a TV series (Thandie Newton) and best TV drama. 
Season two of Westworld is slated to return to HBO in 2018, but that hasn't tempered the conversation. One burning question following the first season is about the guest experience in Westworld. 
The first season predominately focused on the park's various hosts, and their eventual path toward consciousness. While guests like William and Logan played a role, their narrative was largely ancillary to that of Dolores (Evan Rachel Wood) and other hosts. 
More about Westworld's guest experience may be revealed in the future. TV Line recently spoke with Westworld's co-creators, Jonathan Nolan and Lisa Joy, who opened up about this less seen aspect of the series. 
Questions that remain unanswered regarding the guest experience include: What happens if you dissemble a host (like the Man in Black)? And, what about child guests? "We talked a lot about how the experience would feel for a contemporary guest going into the park," Nolan said to TV Line. "We laid out a lot of that logic in the writers' room." 
However, with the series turning its attention to the evolution of the hosts, Nolan said "it didn't feel appropriate to spend too much time illuminating how unreal this place is, because the hosts believe in it so much up until that horrifying moment when they realize that it's an artificial world. So we didn't get bogged down in it."
With the series' world now well and established, Nolan said the show "will spend a little bit more time next season shining a light on those aspects of the park — what does it feel like to come to it as a guest? — just a little bit before the mayhem starts."
With 2017 right around the corner, we must accept that Westworld season two is, unfortunately, still a ways away. However, as a series still shrouded in a fair share of mystery, the conversation should not die down any time soon. 
Mic has ongoing coverage of Westworld. Please follow our main Westworld hub.