Watch video of Rick Perry forgetting the name of the agency Trump just picked him to lead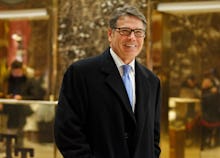 It was one of the most cringe-inducing moments of the 2012 presidential campaign.
Former Texas Gov. Rick Perry on Monday was announced as President-elect Donald Trump's pick to lead the Department of Energy. Notoriously, Perry couldn't recall the department's name when offering a list of government agencies he would do away with during a 2011 Republican presidential primary debate.
"It's three agencies of government when I get there that are gone — Commerce, Education and the, um, what's the third one there? Let's see. Oh, five — Commerce, Education and the, um... um... ," Perry said.
Though he was unable to name it during the debate, Perry later explained that the Department of Energy was the third agency he planned to dismantle if he became president.
"By the way, that was the Department of Energy I was reaching for a while ago," he later said in the debate.
Now, Trump has selected Perry to lead the agency he once forgot the name of — and wanted to wipe from existence. 
Watch the gaffe below: