'ANTM' Cycle 23, Episode 1 Recap: Who can get into a VIP party?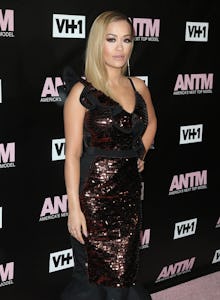 America's Next Top Model returned to screens on Dec. 12, but this time on VH1 and with Rita Ora, not Tyra Banks, as the host. 
Episode one of cycle 23, "Business, Brand, Boss," begins with 28 aspiring models. But not all of them make it to the end of the premiere. Ultimately 14 of them are eliminated, leaving contestants Courtney, Giah, Justine, India, Tash, Tatiana, Kyle, Binta, Cory Anne, Cherish, Paige, Krislian, Marissa and Cody in the running for the title of top model.
This elimination comes after the contestants meet with Ora, as well as judges Ashley Graham, Drew Elliot and Law Roach, who are there to usher in ANTM's new focus on entrepreneurship and branding. The aspiring models also meet with designers Phillip Plein and LaQuan Smith, show off their catwalk skills and share their stories. 
Of course the premiere also set the stakes: The winner of cycle 23 will get $100,000, in addition to high-profile modeling opportunities. 
The premiere concludes with the contestants standing in line outside of a New York City VIP party the next day. Those who are on the coveted list move on to the next round. 
The second episode, "Lights, Camera, Catwalk," will air Monday, Dec. 19 at 10 p.m. Eastern. But if you missed the first episode, you have several more chances to catch it airing on VH1.