Major League Baseball strikes hazing practice of dressing rookie players like women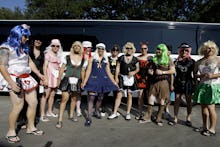 Starting next season, there'll be a new rule in baseball: No more dressing the new guys in drag. 
On Tuesday, Major League Baseball is set to ratify a new anti-hazing and anti-bullying policy meant to end a sexist and transphobic tradition in the sport, which bans veteran players from forcing new team members dress as women. The rules prohibit "requiring, coercing or encouraging" rookie players from "dressing up as women or wearing costumes that may be offensive to individuals based on their race, sex, nationality, age, sexual orientation, gender identify or other characteristic," the Associated Press reports. 
A practice that has grown more outlandish and more public over the years, baseball's ritual of requiring rookies to wear costumes has long been a hallmark of hazing in the league. However, the demand that players wear outfits that play on racial stereotypes as well as women's clothing — including anything from orange Hooters shorts to cheerleader uniforms, to leotards reminiscent of the U.S. Women's Olympic Gymnastic team's — has finally elicited an official response from the league. 
That's partly because social media has "unfortunately publicized a lot of the dressing up of the players," according to MLB vice president Paul Misfud.  
"Those kind of things which in our view were insensitive and potentially offensive to a number of groups [have been banned]," Misfud told AP. "There's lots of pictures of baseball players dressed up as Disney princesses." 
Indeed, the internet is rife with images of baseball stars going on coffee runs in tutus and flimsy spandex shorts, not to mention many, many skirts. Days before closing out their 2016 season, the New York Mets posted a photo of several players dressed as the female baseball team in A League of Their Own, publicizing exactly the sort of behavior MLB now hopes to avoid.
"Although it hasn't happened, you could sort of see how like someone might even dress up in blackface and say, 'Oh, no, we were just dressing up,'" Mifsud said. "We've also understood that a number of players have complained about it."
Some players have insisted the hazing ritual makes them feel "like one of the guys," as former New York Yankees pitcher Ian Kennedy put it in 2007, but others haven't been so eager to participate. In 1992, former MLB star Jeff Kent reportedly threw a pimp costume he had been told to wear to the floor, decrying the veterans' request. 
"I feel I have endured my embarrassments, my punishment. I felt I was being taken advantage of. They wanted to go overboard. I stuck up for myself. I won't be pushed around," Kent said at the time. 
The anti-bullying rules do not ban all MLB hazing rituals, which are considered an important bonding exercise among many players; teams will still be allowed to make new guys dress like male superheroes or as giant condiment bottles, and they will still be allowed to make them get coffee. Rookies cannot, however, be forced "to consume alcoholic beverages or any other kind of drug, or requiring the ingestion of an undesirable or unwanted substance (food, drink, concoction)," the policy states.
And, even if they want to participate in the more unsavory hazing rituals that re-appropriate drag culture, the new policy also bans rookies from doing so: "A player's actual or perceived willingness to participate in prohibited conduct, does not excuse the activity from being considered a violation of the policy."
"Times have changed," MLB union attorney Dave Prouty said. "There is certain conduct that we have to be conscious of."